Olympiad to Determine Georgia's Best Young Economists
By Etuna Tsotniashvili
Tuesday, September 27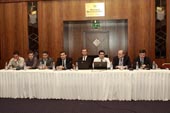 On October 20, Georgia's young economists will come together and try to win the prize for the most talented economists in Georgia. Georgia's student Olympiad in Economics 2011 organized by the United Young National Movement, Georgian Economists Forum and Student's Steps for Progress will promote students from all parts of Georgia and provide a challenging experience.
A presentation on the Olympiad in Economics 2011 was held yesterday at the Sheraton Metechi palace, where the event's organizers shared information to those students who are aiming to participate in it.
One of the organizers of the Olympiad, Vakhtang Lomjaria, who heads the Georgian Economists Forum, introduced the students to the upcoming Olympiad rules and general information. According to him the interest among students is very high. He added that the competition has no limit on participants and the more students will participate in it, the more popular and successful the Olympiad will become. "This event aims to popularize economic knowledge and we are sure that our students will gain experience and knowledge in the economics at the Olympiad," Lomjaria told
The Messenger
.
Lomjaria informed the students about the test's authors and juries in detail. He said that fairness is guaranteed and on the first day of the Olympiad the tests will begin at the same time in all regions of Georgia. "The tests will be compiled by the National Bank of Georgia which as organizers state that they will guarantee that the tasks of the Olympiad will be written in a professional way and will be checked by the test's authors accurately," Lomjaria said.
Irakli Matkava, Deputy Minister of the Economy and Sustainable Development, said that the ministry welcomes this initiative and supports young economists in developing their professional career.
"A modern world is constructed on the level of knowledge, having knowledge and using it effectively is what determines the success of any person, country, or company. So, accordingly this type of Olympiad is very much necessary for students who are taking their first steps in developing their careers. They will be able to gain knowledge, share it and use it for more success," Matkava stated.
Nodar Kereselidze, head of the International Relations' Department of the Ministry of Agriculture, has welcomed this initiative and expressed his content that the Olympiad will promote professional careers and will be a step forward towards innovative and new projects. Kereselidze said that future prospects will open by taking part in such events in all economic sectors - public or private.
The winners will be awarded with prizes and money grants. The top placed winners will be employed in different organizations in the private and public sectors.
The deadline of application for the Olympiad is October 10.