Lavrov States Russian Position on Caucasus Conflicts
By Ernest Petrosyan
Thursday, September 29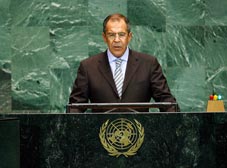 "We are strongly committed to doing our utmost in order to prevent a repetition of the use of force scenario in the Caucasus as happened in August 2008 as a result of a reckless venture by the ruling regime in Tbilisi," said Russian Foreign Minister Sergey Lavrov in his speech to the UN General Assembly on September 27, where he spoke of conflicts in the post-Soviet space, also mentioning Nagorno-Karabakh and Transdnistria.
Lavrov insisted on Moscow's role as a peace and security "guarantor" rather than as an active combatant in Georgia's conflicts, and called for non-use of force arrangements between Tbilisi and the breakaway regions of Abkhazia and South Ossetia.
"Russia is ready to act as a guarantor of arrangements on the non-use of force between Abkhazia, Georgia and South Ossetia taking into account the earlier relevant statements made by the leaders of these three parties," said Lavrov. He also noted that the Russian side would welcome it if the United States and the European Union made similar commitments. As guarantors, we would be ready to take steps to prevent the resumption of violence in the region and in case of wrongful use of force by either side, to work towards the early settlement of the situation on the basis of the existing norms of international law," he added.
According to Lavrov, the Russian Federation continues to pressure Tbilisi to sign the non-use of force agreement between Sukhumi and Tskhinvali, representing them as the main sides in the conflicts. Such a proposal however, is opposed by Tbilisi, since the Georgian government, considers the Russian Federation as a main player in the conflict, and refuses to cooperate with the puppet regimes in the breakaway regions.
Last year the Russian Federation also offered unilateral non-use of force declarations to be made separately by Tbilisi, Sokhumi and Tskhinvali, instead of signing agreements. However, after President Saakashvili made such a unilateral non-use of force pledge at the European Parliament on November 23, Moscow restated that there must be a written agreement between the sides, but at the same time refused to take part in such an agreement, arguing that it is "a mediator" and "guarantor", not a party into the conflict.
President Saakashvili also raised this issue during his speech to the UN General Assembly a week ago, saying that almost a year after solemnly pledging that Georgia "will never use force to liberate its regions currently occupied by the Russian Federation," Tbilisi was still waiting for Moscow's reciprocal pledge.
Political Analyst Zurab Abashidze also considers that such statements and proposals from the Russian side will not have any consequences. "It is obvious that Russia represents a part of the conflict, and it would be reasonable to sign a non-use of force agreement with Russia itself. President Saakashvili announced at various international events that Georgia will never apply force in regard to both conflicts, and this should be enough", said Abashidze. He also excluded that the US and EU will follow Lavrov's offer to share such security guarantor commitments with the Russian Federation.