Tbilisi's art scene is enriched by Welsh artists' "One Night House" exhibition
By Salome Modebadze
Monday, November 7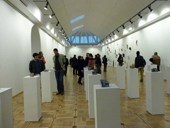 One Room Living
, ¬ an exhibition of Welsh artists Lois Williams and Antonia Dewhurst opened at the Tbilisi State Academy of Arts on November 3. In the framework of "Artisterium" the fourth Tbilisi International Contemporary Art Exhibition organized by the Ministry of Culture and Monument Protection of Georgia, the Academy is hosting the works of two Welsh artists. Through the support of British Councils in Georgia, the artists conducted a workshop for students of the Academy where the professional artists and youth worked on the topic of "identity", using non-traditional materials.
The British Councils, which funded the Welsh artists, has participated in Artisterium every year. Zaza Purtseladze, Director of British Councils underlined the importance of the project for the contemporary art, and Gia Bugadze, Head of the Academy, welcomed the "unique exhibition of an international level" as a new victory of the Academy and British Councils long collaboration.
Sculptor and installation artist Lois Williams worked with "domestic" materials like paper, wool, wax, rope and etc, and gave them the expressions of remembrance, belonging and loss. Both Welsh artists interpreted images of places, objects and relationships associated with the idea of what we call "home".
Inspired by the Welsh custom of Ty Unnos ("One Night House") Antonia Dewhurst took us back to the difficult 18th-19th centuries where poor people built houses in one night, between sunset and sunrise, and traditionally if they had a fire in the chimney by dawn and no one contested their living there for one year, they would own the house and land. These houses and the land around them (often on roadsides) were very elementary shelters.
"I think the Artisterium is a great project. I'm very excited to be here and to be part of it. It's my first visit to Georgia and it's so great to see my works shown in this fantastic space, and see Georgian people enjoying them," Dewhurst told
The Messenger
as she shared the secrets of the traditional "one night houses" in Wales.