Cooperating with Finland, Georgia creates closer ties
By Salome Modebadze
Monday, November 7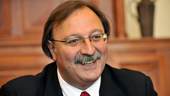 Georgian Foreign Minister, Grigol Vashadze, met with his Finnish colleagues on November 3 and 4 in Helsinki. During his two-day trip Vashadze discussed issues of cooperation between Georgia and Finland and the present political situation in Georgia which included the democratization processes and the situation in occupied territories.
After his speech to the Finnish Parliament, Vashadze answered many questions about the internal situation in Georgia, and Members of the Finnish Parliament made positive comments on current reforms being carried out by the Georgian government. They welcomed the economic reforms as well as Georgia's international policy. Erkki Tuomioja, the Minister of Foreign Affairs of Finland, stated that the two countries have shared many same interests and plans for a long time and that they would continue effective cooperation in future. "Georgia and Finland enjoy good relations and have extensive cooperation in many fields," Tuomioja said.
Expressing satisfaction at the closer contacts between Georgia and the EU, the Finnish Minister stressed that his country would gladly support Georgia's European aspirations. The two countries seem to have the same views on their neighbors, including Russia. Vashadze said he was pleased that his Finnish colleagues praised Georgia's efforts to reach an agreement on Russia's entrance to the World Trade Organization (WTO). They welcomed the results and hope the final agreement will soon be signed.
Vashadze discussed regional and global issues with the Finnish Minister for International Development, Heidi Hautala; the Minister for European Affairs and Foreign Trade, Alexander Stubb, and the Foreign Minister's Under-Secretary of State for Foreign and Security Policy, Jaakko Laajava. The Georgian Minister underlined the necessity to develop economic cooperation and attract investors so that Finland and Georgia could deepen trade relations.
At the Finnish Committee for European Security (STETE), the Georgian Minister participated in a seminar where he discussed
Georgia in the European Context: the view from Tbilisi
. During his two-day trip he also participated in the opening ceremony of the Georgian Embassy in Finland.