A month in Georgia
By Roshan Sharma
Wednesday, January 25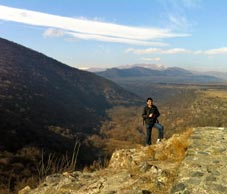 When I received an email from my professor saying that I had been accepted into the Williams in Georgia program, I was very delighted, of course! The first impression I created in my mind was me standing on top of a snow-clapped hill overlooking the street lights of Tbilisi.
However, when I told my friend about this, the first response I got was, "Oh cool! So you staying in Atlanta?" Needless to say, they were amazed when I said that I was actually going to the land of the Caucasus.
The first night in Tbilisi "downtown" was an amazing experience. We [our group from Williams College and Mt. Holyoke College] hung out and got to know each other better, scrolled around the city and realized that it actually is not a big city but just has so many things to do. As you might have guessed, I fell in love with Tbilisi.
From vehicles to people, everyone, like in any other big city, seemed to be in a hurry. There were lights everywhere. From the gigantic Christmas tree in front of the parliament to the streets, everything was glowing. However, once we moved out of the downtown, people were more relaxed. We got surprised when we saw modern buildings and houses of ancient style next to each other.
My host family provided me with the best environment for cultural immersion. My host father, Archil Kikodze knows everything about Georgia, its history, geo-politics, myths, people, culture, tradition, food, wine and everything. From the time of his militant grandfather to his own experiences with the Caucasus, his stories and jokes always made me felt welcome to Georgia in a unique way. He would stop by every 5 minutes to say hi to his friends on the streets of Tbilisi and introduce me to them. The first thing most of them said to me was: Welcome to Georgia! Small chats with so many people made me realize how wonderful and welcoming these people are.
His greatness is proved by the fact that he fixed my internship at The Georgian Messenger where I got to learn a lot about the current happenings in Georgia, and also meet other great people like my manager Etuna Tsotniashvili. Working at The Georgian Messenger was one of the best intern experiences for me.
Our first excursion, quite an experience! We flew on the road of Georgia up to David Gareji. It was quite a ride, jumping and bumping on the van, but nevertheless, very fascinating. We hiked up David Gareji to the border of Azerbaijan. Exposing oneself to such a wild nature never felt so good to me. It was naked, inviting and beautiful, it just felt very good! Everyone in my trip enjoyed the hike on that sunny day. Besides the hike, we learnt more about Georgia [especially about the David Gareji Monastery and the black monks]. That night we had a huge Georgian feast. Never had I ever been to a feast where everything was so good. There was nothing you could complain about. From the Khachapuri to the Kinkhalis, including the wine, words cannot describe the ecstasy. One needs to come and taste for oneself. I heard my friends talking, "Man, this was such a good feast!"
Our next excursion led us to Gori, the birthplace of Stalin and Mstkheta, the old capital of Georgia. Ah, the view was just gorgeous. Also, even more beautiful and wonderful were the people on our way, everyone expressing their hospitality and love.
The views of the Caucasus and the small hills on our trips were reflecting the true natural beauty of Georgia. This made our trip even better. So was the hike up one of the hills surrounding Tbilisi. As we went up, Tbilisi became beautiful as never before, for me.
Needless to say, the people here are just amazing, very welcoming and their hospitality is incredible. Tbilisi is definitely one of the safest cities I or any of my friends have ever been in. Walking at 4 in the morning, that's cool! Never did my group felt scared on the streets of Tbilisi. Never did we ever see someone getting robbed or anything.
My host father once took me on a walk around Old Tbilisi. As I have already mentioned, my host father knows a lot about this place. That walk made me realize how rich this place was for its history.
Tbilisi is an amalgamation of an ancient and a modern western culture. This is the place where the humans lived after Africa. This place possesses ruins of Churches from as old as the 5th century. From the times of the Black Monks to the Ottomans, Georgia has suffered a lot as well as grown a lot.
You should come hungry and thirsty to Georgia and that will be the best thing you will have ever done to yourself in your life.
Getting to come to this country was a wonderful thing. I will take back memories of the beautiful smiles of the people, the wild but inviting nature and the taste of the Georgian food and wine.
Thank you Georgia, I love you very much.
Shien Khaar Lamaji!