Foreign Minister speaks to Council of Europe
By Ernest Petrosyan
Thursday, January 26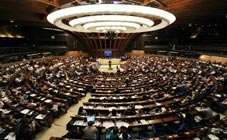 Georgian Foreign Minister Grigol Vashadze opened his speech at the Parliamentary Assembly of the Council of Europe (PACE) by quoting the words of former Prime Minister Zurab Zhvania. "We are Georgians, therefore, we are Europeans," said Vahadze, later congratulating the newly elected president of the Parliamentary Assembly of the Council of Europe, Jean-Claude Mignon, on his new post.
In his remarks, the Foreign Minister referred to the importance of Georgia in European security, the ongoing reforms in Georgia, and the necessity of reforms within European institutions.
"We managed to escape from the Soviet mentality. Georgia is a regional leader in terms of reforms. We adopted important changes in [our] election code and increased trust towards elections," observed Vashadze, emphasizing Georgia's success fighting corruption and crime, and noted that the country is an example of democratic transformation.
He also identified the international goals Georgia is currently pursuing, such as visa liberalization and the launch of free trade negotiations with the European Union.
Vashadze then spoke of Georgia's security issues, saying, "Once we started to think of strengthening democracy, we realized that it is impossible without solving the existing problems in security." He argued for reform in European decision-making bodies, so as to deal with "unsolved issues", such as Georgian territorial insecurity. "I firmly believe that the process of integration into European institutions is the best prevention mechanism against renewed instability and violence."
Responding to a question from a Dutch PACE MP, Vashadze noted that Georgia will not reject any future negotiation opportunities with the Russian Federation. "We are ready to talk any time any place, but first of all we should know the goal, and structure of negotiations," he remarked. Asked how a dialogue between Moscow and Tbilisi might take place, as Russian officials refuse to speak with the current Georgian administration, Vashadze responded, "Russian authorities do not wish to talk to a democratically elected government. After the elections in 2012-2013, when a new government is created, I ensure you that Russia will not talk to it [either]."
Meanwhile, new PACE President Jean-Claude Mignon told Russian newspaper Nezavisimaya Gazeta that the situation in Abkhazia and South Ossetia is "unbearable." In an interview, Mignon called on the Russian Federation to fulfill its obligations in the six-point Sarkozy-Medvedev agreement. He spoke of being unable to enter the breakaway regions from sovereign Georgian territory, and reaffirmed the European monitoring projects currently ongoing in the area.
"It is not surprising that solutions are hard to see in many situations, as the country is full of refugees, whose homes were destroyed. I think Russia - such a large and influential country – should act for a rapid solution of the problem," he said.