Christian Democrats cheer Human Rights Watch report
By Gvantsa Gabekhadze
Thursday, January 26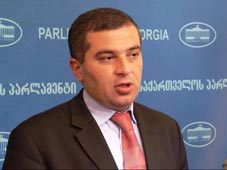 Parliamentary minority party, the Christian Democrats, have applauded the findings in a recent report on Georgia published by international NGO Human Rights Watch.
Nika Laliashvili, representative of Christian Democratic Movement, highlighted the report's detailed criticism of the government response to the May 20, 2011 opposition street rally, as well abuse of judicial structures, and actions carried out against internally displaced persons (IDPs).
Laliashvili observed that Georgia's efforts to meet international standards are undermined each time human rights are violated, saying, "I hope that our Western partners will do their best to undertake pressure on the current Georgian leadership, and achieve democratic transformation of the state."
He did note, however, that the report "was not comprehensive," citing previous reports by the U.S. State Department and the Georgian Public Defender – which he argued were ignored by the administration.
In response, Chair of Parliament, Davit Bakradze, maintained that those problems reflected in the report exist even in highly developed states. "The aim of [Human Rights Watch] is to focus on problems in the field of human rights in various countries. There is no ideal situation in any country. Countries such as France and the USA are sometimes in [their] reports," he said.