Opposition leaders optimistic about coalition, election
By Salome Modebadze
Thursday, January 26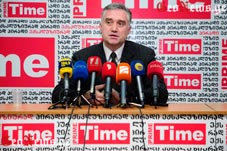 Businessman Bidzina Ivanishvili is a "good man," which is more important than any political rating, according to Zviad Dzidziguri, leader of the Conservative Party. Speaking at Prime Time's press club on Wednesday, Dzidziguri said that people know Ivanishvili well from his years of business and philanthropic work, giving him great authority in the community. Convinced that Ivanishvili has made a unique impact on Georgian politics, Dzidziguri spoke of a "balance" coming to the country since the businessman's entrance into the political arena.
Dzidziguri dismissed the idea that politicians have flocked to Ivanishvili solely for his billions. Reminding the audience that each electoral bloc may spend only 40 million GEL per year, Dzidziguri said he and his colleagues expect to benefit more in political connections.
Confident in the success of Ivanishvili's team, he advised the ruling United National Movement (UNM) to prepare for "working in the oppositional regime." As Dzidziguri dryly noted, President Saakashvili and the UNM have real supporters, meaning they will be present in any new parliament – but as a minority.
Ivanishvili intends to create a formal coalition once he has arranged his political team. The coalition members, together with other political groups, will later establish a bloc to work on electoral issues. The Conservative Party is confident that after a victory in the 2012 elections, Ivanishvili's alliance would manage to establish a workable coalition government.
Dzidziguri declined to list current or potential coalition members, saying, "Each and every person with experience fighting against Saakashvili's regime is an important figure whose resources should be used."
Kakha Kukava, leader of Free Georgia, also expressed his readiness to join a coalition but only if Ivanishvili is able to unite a wide spectrum of opposition figures, not a "narrow ideological coalition." Speaking at the same press club meeting, he mentioned a "tactical union" aimed at changing the current political regime. Kukava believes that "it is better to put any ideological differences with Ivanishvili behind for a while, for the sake of defeating Saakashvili."