UNDP visits agricultural college in Kakheti
By Ernest Petrosyan
Monday, January 30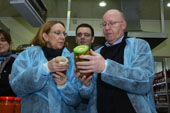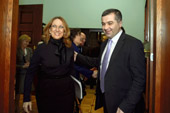 United Nations Under-Secretary-General and United Nations Development Programme (UNDP) Associate Administrator Rebecca Grynspan visited a professional college in the village of Kachreti, Kakheti, January 28, as part of a two-day trip to Georgia. The campus, which includes a wine bottling factory, food processing plant and a freezer for farmers, was launched with the support of UNDP.
During her visit, Grynspan and Kakheti Deputy-Governor Giorgi Sibashvili along with other UNDP officials met students and teachers of the college as well as some local farmers who receive professional consultation from the UNDP-supported agriculture extension service.
"Georgia is a success story. They have been able to invest a lot in the re-positioning of their production, their people, and their skills. Georgia has new challenges... to be able to sustain growth and also to make it spread across the country, and they know that and that is why the regional development and local self-governance is very important," Grynspan told
The Messenger
.
She maintained that vocational training is efficient and inexpensive, and that it helps people support their families and sustain their livelihoods.
According to Sibashvili, a professional college like the one in Kachreti is very important for agricultural development as it trains specialists such as winemakers, farmers, and mechanics. He also added that the college now trains craftsmen and souvenir makers thanks to an increasing number of tourists visiting Kakheti.
"The first steps were made in 2009, with the elaboration of the Kakheti regional development strategy, which included the diversification plan of agriculture and farming... This served as a ground for multimillion investment projects in Kakheti," Sibashvili said, adding that the World Bank will be making a $100 million investment in the region.
"UNDP has been supporting this region since 2007. High quality professional education is very important for local economy. This college provides services, advice, and support to communities and people who are looking jobs or better employment," said UNDP Resident Representative in Georgia Jamie McGoldrick.
"We help farmers to get new technologies to improve their productivity, improve their income – and thereby promote development in the region," he added.
Speaking to
The Messenger
, the school's students said that they are gaining important skills and knowledge and this helps them meet requirements of the new labour market.
A former student Isolda Kitesashvili previously worked as a doctor but is now a successful farmer. "I learned about new farming methods, irrigation, and winemaking. This experience definitely has brought its results and increased my harvest," she said.
Before visiting Kakheti, UNDP representatives held meetings with the Chair of Parliament David Bakradze, Minister for Regional Development Ramaz Nikolaishvili, Minister of Environment Goga Khachidze, and Healthcare Minister Andria Urushadze, as well as ambassadors and representatives of civil society.
At her meeting with Bakradze, Grynspan emphasized UNDP's fruitful cooperation with the Georgian government, and welcomed further initiatives to create more opportunities for vulnerable populations and help reduce poverty and inequality. She also emphasized the importance of fair parliamentary and presidential elections as an integral part of democratic development.
"The parliamentary and presidential elections in Georgia are an opportunity to reinforce [its] democratic achievements. I was very pleased to receive assurance from the Chairman of the Parliament that the elections will be free, fair and transparent," she said.