Poor conditions reported in Zugdidi, Batumi prisons
By Lera Khubunaia
Thursday, February 16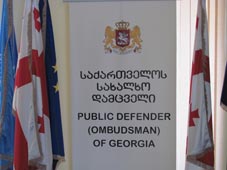 The Public Defender's Office of Georgia released updated monitoring results of the Zugdidi and Batumi penitentiaries Wednesday.
The special monitoring group of the Public Defender's Office performed a monitoring of Zugdidi prison No. 4 and Batumi prison No. 3 in January.
Thanks to a history of "intolerable" living conditions, the Public Defender has been requesting the liquidation of the two institutions since 2009. Conditions make it difficult to provide a basic standard of living to prisoners, including interfering with the institutions' ability to remove bedbugs and rodents.
Most recently, monitors observed that both prisons were overcrowded. The number of prisoners in Batumi prison No. 3 was 564, while the limit is 557; in Zugdidi prison No. 4, there were 342 prisoners, where as its limit is 305.
Monitoring was performed during the coldest period of the year, highlighting the fact that neither prison has a central heating system. In order to get warm, prisoners use electric heaters, but these regularly do not provide enough heat. Some cells did not even have this; according to the prisoners, the administration was often unwilling to provide heaters. Those inmates lucky enough to receive a heater find that they are of poor quality and break down regularly. It was especially cold in the women's ward of the Batumi prison, where each heater was shared by three prisoners.
In Zugdidi, inmates were provided with running water only three times a day, whereas in Batumi, prisoners had that privilege for a single hour.
The monitoring group also paid a visit to foreign prisoners in Batumi. Due to the administration's inability to provide all necessary living equipment, some of them did not have coverlets, spoons, or plates.
In addition, inmates were prevented from using the prisons' telephones. Phone calls are allowed only in the Zugdidi, while in Batumi the phones themselves have been missing for the last two years.
Even though monitors noticed that inmates in Batumi showed signs of stress, prisoners in both institutions admitted that they are treated better than they had been before, and had no complaints against the employees of the prisons.