The US Government to Support Economic Growth in Kareli Municipality
Monday, February 27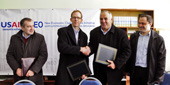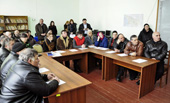 On February 24 USAID Deputy Mission Director, Joakim Parker joined the Head of Kareli Municipality, Ilia Burjanadze to attend the community working group meeting in the village Bretis Meurneoba of the community Giganti, Kareli Municipality and sign the Memorandum of Understanding (MOU) on cooperation under the USAID New Economic Opportunities (NEO) Initiative.
According to the parties, MOU signed between USAID and Kareli Municipality will formalize various aspects of the cooperation and facilitate the development of the Community Economic Development Plans, implementation of selected infrastructure and rural development projects, and support sustainable IDP housing by establishing and strengthening homeowners and tenants associations in targeted IDP buildings and settlements.
NEO's approach is to work hand-in-hand with communities to develop market-based economic planning tools. Over the next four years, NEO plans to implement Local Economic Development (LED) planning activities in 84 target communities in ten municipalities of Georgia: Dusheti, Stepantsminda, Kareli, Khashuri, Gori, Oni, Tsageri, Lentekhi, Zugdidi and Tsalenjikha.
In Kareli Municipality the project already works in Dvani, Avlevi, Dirbi, Breta, Bredza, and Giganti communities. The first small scale infrastructure project supported by NEO project in Kareli Municipality is rehabilitation of potable water supply system in village of Dirbi. This rehabilitation will benefit up to 146 village households.
Overall, NEO project will benefit at least 70,000 rural and vulnerable households in targeted municipalities and will result in sustainable poverty reduction; improved living standards for vulnerable populations; and facilitate increased government participation in addressing local community needs.
The USAID-funded Georgia New Economic Opportunities (NEO) Initiative is a four-year program designed to improve rural incomes, reduce poverty levels, improve food security, address critical, small-scale economic infrastructure constraints in targeted communities, enable targeted internally displaced persons (IDP) communities to sustainably maintain their households, and assist communities affected by natural or other disasters.