Saakashvili unveils Georgian-produced infantry vehicle
By Ernest Petrosyan
Monday, February 27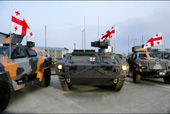 President Mikheil Saakashvili and Defense Minister Bacho Akhalaia unveiled the first Georgian-produced infantry fighting (armoured) vehicle (IFV) "Lazika", at the Vaziani military base near Tbilisi on February 25.
According to a statement made by the President's office, "The Lazika is equipped with a remote-controlled weapon and fire control system. It is also armed with a 23-mm calibre cannon and a mounted 7.62-mm calibre machine-gun. Its day/night thermal sighting system makes [the IFV] capable of controlling fire, and detecting and locating targets in any weather conditions".
During the presentation, the Defence Minister told Saakashvili that the IFV was currently undergoing the final stages of testing. He said that the 14-tonne IFV had an operational range of 200 kilometres with a top speed of 70 kph; however it is also capable of carrying additional fuel tanks, extending its operational range to 400 kilometres. The Lazika also has armour which can protect it from 14.5-mm calibre armour-penetrating bullets.
"This is a new level of development, as very few states are capable of producing tracked fighting vehicles," Saakashvili said during the presentation.
He also noted that the new IFV has export potential. "Yes, we need and we plan to commission it [for the Georgian armed forces] in large quantities, but it is also something that is sold on the world markets easily," he added.
The Georgian Defence Ministry said that the Lazika was developed in its research centre, Delta. According to Defence Minister Akhalaia, the centre has been working on its development for the past two years.
"We have accomplished this task and it means that we will be able to further develop this direction [towards a military industry]," Akhalaia told journalists.
The Delta research centre also developed two types of Didgori light wheeled armoured patrol vehicles, which were first presented during the Independence Day parade on May 26, 2011 – Didgori 1 with a multi-barrel heavy machine gun ("Minigun"), capable of carrying nine persons, and Didgori 2 with 12.7 calibre machine gun.
Symbolically, Lazika's presentation coincided with Soviet Occupation Day, commemorating the Red Army invasion of Tbilisi on February 25, 1921.