Saakashvili asks rivals to clarify foreign policy goals
By Gvantsa Gabekhadze
Monday, February 27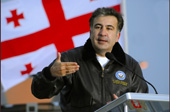 President Mikheil Saakashvili has asked that all political parties release platforms that clearly outline their views with regard to foreign policy and relations with Russia.
"This is extremely important, because those political forces who plan to run in the elections should tell the public the truth. Each of them is obliged to be clear and open to the people," he noted.
Saakashvili's statement was interpreted as a criticism of his main rival, Bidzina Ivanishvili.
He also expressed his suspicion that some parties would rather be aligned with Russia than with NATO or the European Union. "You can have ties with Russia's current authorities and you can think that it is more important than membership in the EU and NATO; but you can't hide this position from the public," he stated.
The President said that it is an individual's right to choose their own political beliefs, however "I think it is neither good and moral nor popular to be a Putin supporter, but it is legal. So those who like Putin and believe him, or believe that his version of Georgian-Russian relations can be accepted, please state it loudly without wagging a tail."
While neither Ivanishvili nor his Georgian Dream coalition have offered a response, they have made statements in the past supporting the country's pro-West course, including membership in NATO or similar organizations. "We should deepen our relationship with the United States, and as for NATO, the current authorities have done their best to postpone Georgia's participation in the organization as far into the future as possible [due to the 2008 war]," Ivanishvili has said.
However, he has also affirmed that the restoration of relations with Russia is one of his party's priorities. "In foreign relations, Russia also has a significant position. From an economic point of view, Russia is an object of interest [around] the whole world and their WTO [membership] has confirmed this".
Ivanishvili also stated his support for Georgia's participation in humanitarian military missions like Afghanistan. "I think that collaboration with powerful foreign states in this field is the correct course. As for how many soldiers should participate in the operations, it should be decided after proper discussions," he said.
A desire to restore relations with Russia has been voiced by almost all political parties, including Saakashvili's own United National Movement; however, they always emphasize that Russia is not interested in creating a neighbourly relationship with Georgia, as that country is interested more in satellite states than in equal partners.