Eastern Partnership forum meets in Tbilisi
By Salome Modebadze
Monday, March 26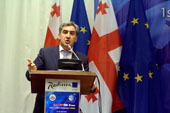 The first European Union Eastern Partnership Forum occurred in Tbilisi this past Friday, March 23. Around 200 guests from European Union (EU) and Eastern Partnership (EaP) countries came together to discuss collective challenges at the event.
The forum, organized by the Georgian Ministry of European and Euro-Atlantic Integration and the Polish Foundation Institute for Eastern Studies, gave the EaP states a chance to exchange experiences and emphasize their common interests in cooperation with the EU.
Prime Minister Nika Gilauri said the Georgian people have reform in their DNA, and so even after the Parliamentary elections this fall, reforms will continue.
The Prime Minister spoke of Georgia as a key partner for the EU in the energy security sphere, as a "transfer node" of gas and oil, which will export energy to EU member states after the construction of more hydroelectric plants.
As Gilauri notes, if a free trade agreement with the EU is signed, Georgia will be in a more favourable position for trade with the EU in the entire post-Soviet region.
The participants agreed that joining an EU visa-free system is necessary for increased effectiveness of the EaP. According to Jana Kobzova from the European Council on Foreign Relations, "visa liberalization was and still is the most significant element the EU [has to] offer the region".
The Russian issue was a recurring subject of the debate. Speakers called Russia the main brake on positive changes in the region. Speaking of the Georgian-Russian War in 2008 as an attempt to "split" Georgia from its "European roots", Deputy Minister of Foreign Affairs Tornike Gordadze spoke about the Eastern Partnership not being an initiative aimed at gaining the EU membership, but rather an opportunity to bring the region closer to European standards, and to ensure stability.
Grzegorz Schetyna, Chairman of the Sejm Committee of Foreign Affairs of Poland, emphasized the priorities of the forum, saying he hopes discussions in Tbilisi will "write a new chapter" in terms of cooperation.
The guests also welcomed Georgia's position as a regional leader, a reliable and dependable partner in the fuel industry, and an attractive country for foreign investments.
The Eastern Partnership was established in 2009 as a framework for cooperation between the EU and Georgia, Armenia, Azerbaijan, Belarus, Moldova, and Ukraine.
Christian Democrat representative Levan Vepkhvadze commented on the forum, saying that Georgia's integration into Europe is important to his party, but it is impossible to have free trade and visa-free travel with the EU without the relevant democratic standards.