UEFA seeks Georgian companies for corporate hospitality programme
By Messenger Staff
Friday, March 30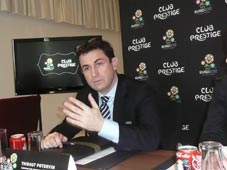 A presentation of the UEFA EURO 2012's Corporate Hospitality Programme, Club Prestige, was held at the Radisson Blu Iveria in Tbilisi yesterday, in hopes of attracting more Georgian companies to the event.
The Union of European Football Associations (UEFA) European Football Championships 2012 are scheduled to take place in Poland and Ukraine in June, marking the first time in the tournament's history it will be hosted in Central or Eastern Europe.
Thibaut Potdevin, Commercial Manager of the UEFA, presented the organization's corporate programme to media representatives and introduced details of their plans for the 2012 EURO championship. "The reason why we are here today is a great opportunity for Georgian companies to be involved in EURO… The Corporate Hospitality Programme has existed for 10 years and is an important part of the tournament, as it has been extremely popular in this period," he said.
The programme is made up of sales packages that include top category seats, quality catering, a special programme of entertainment before and after the match, and access to hospitality areas. Of the total 1.4 million tickets available for the UEFA EURO 2012, 60 000 are reserved for corporate hospitality packages. This represents just over 4% of the total number of tickets allocated to fans and 7% of overall tournament revenue.
Not only are thousands of fans from all over the world coming to Ukraine and Poland to attend the games and join in the festival atmosphere, but EURO 2012 is also expected to be a major milestone for Commonwealth of Independent States (CIS) businesses.
As in all previous events, UEFA will host Club Prestige at every game of the tournament. This program allows corporations and institutions to use the tournament as a platform for business and the development of relationships on a global level. For this reason, UEFA is in Tbilisi courting Georgian businesses seeking to gain international contacts and clients.
As for the possibility of Georgia hosting a EURO tournament, Potdevin remarked that Georgia should try to bid as soon as it can satisfy UEFA demands.
"There have been a number of unexpected places that have been designated [as hosts] recently, so Georgia should never hesitate to take part," he said, adding that such decisions are not within his purview.
The suggestion to submit a bid on the EURO 2020 championship has already been made by President Mikheil Saakashvili and Azeri President Ilham Aliev.
By signing an agreement on cooperation in the spheres of sports and statistics, Tbilisi and Baku intend to make a joint bid to host the UEFA European Football Championship. The bidding process will start this year and the host is expected to be announced in 2014.