Democracy working group held in Washington
By Ernest Petrosyan
Wednesday, April 18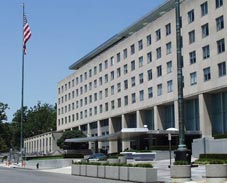 The fifth US-Georgia democracy working group meeting, in the framework of the Strategic Partnership Charter, was held in Washington on Monday. According to the US State Department, participants discussed "efforts to further strengthen democratic institutions in Georgia".
The working group on democracy, among four inter-agency groups, was represented by National Security Council Secretary Giga Bokeria and Deputy Foreign Minister Sergi Kapanadze on the Georgian side, and Assistant Secretary for European and Eurasian Affairs Philip Gordon, Deputy Assistant Secretary for European and Eurasian Affairs Eric Rubin, and Deputy Assistant Secretary for Democracy, Human Rights and Labor Thomas Melia, on the American side.
"Discussions focused on recognizing Georgia's reform achievements to date and efforts to further strengthen democratic institutions and electoral processes, media freedom, rule of law, and judicial independence. Georgia will hold parliamentary elections this fall and presidential elections in 2013," read a State Department statement released Monday.
A statement from the Ministry of Foreign Affairs of Georgia revealed that the parties discussed a wide range of completed and ongoing democratic reforms, including the amended electoral code and preparations for the forthcoming parliamentary elections.
It also noted that cooperation within the Open Government Partnership – a US initiative uniting governments of over 50 countries committed to promoting transparency, fighting corruption, and increasing civic participation – was also discussed.
Preceding the democracy working group meeting, the US Embassy in Tbilisi mediated a video conference between representatives of Georgian opposition parties and NGOs and US State Department officials as well as USAID. Among the Georgian opposition leaders who participated in the video conference were leader of the Republican Party Davit Usupashvili, leader of the Free Democrats Irakli Alasania (both of whom also represent Bidzina Ivanishvili's Georgian Dream coalition), leader of the Christian-DemocratsvGiorgi Targamadze, and leader of the New Rights Party, David Gamkrelidze.
As Gamkrelidze told
The Messenger
, he raised three issues at the conference: the commission of the voters list, media monitoring, and interdepartmental cooperation. "I emphasized the importance of the voters list commission, which is currently arranging an accurate voters list via a door-to-door survey. I stressed the problem of media monitoring, which is crucial for a stable and objective pre-election environment, as most television [news] dedicate much of their time to the National Movement, thereby not creating equal conditions for each political force," Gamkrelidze said. He also noted that the issue of interdepartmental cooperation was also important to prevent pressure on voters from representatives of local government and misuse of administration resources.
"I also support giving Ivanishvili the opportunity to participate in the elections, nonetheless he constantly attacks us with defamation," he added.
The US-Georgia Charter on Strategic Partnership was signed by then-US Secretary of State Condoleezza Rice and Minister of Foreign Affairs of Georgia Grigol Vashadze in Washington, DC, on January 9, 2009. The first meeting of the Strategic Partnership Commission, held in Washington on June 22, 2009, launched four bilateral working groups on priority areas identified in the Charter: democracy; defense and security; economic, trade, and energy issues; and people-to-people and cultural exchanges.