Kakheti rehabilitation project courting new business ventures
By Salome Modebadze
Tuesday, May 1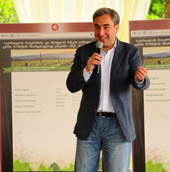 On Monday, Prime Minister of Georgia Nika Gilauri presented the Kakheti regional development project to business representatives. The $75 million USD project, supported by the World Bank, hopes to make that region into one of the best tourist destinations in the world.
As the Prime Minister said, the project will lower unemployment in the region as local residents will be employed in tourism and agricultural industries. "You, the local businessmen, should invest in Kakheti with your foreign partners," Gilauri told the audience, stressing that not only will investors benefit from the project, but that it will create jobs for others.
$60 million in financing comes from the World Bank, while $15 million is being supplied by the Georgian government.
As Minister of Regional Development Ramaz Nikolaishvili said, this is a significant amount of money and the government is sharing responsibility for the project with business.
Worrying that more and more people are leaving the villages, businessman Gela Gelashvili said he would encourage youth to return "home". Another businessman, Davit Beraia, sees potential for the production of handmade carpets in Sighnaghi.
The Municipal Development Fund of the Ministry of Regional Development has been actively engaged in the process. Levan Chinchaladze, Executive Director of the Fund, explained the registration procedure to business representatives.
Any Georgian or foreign investor can apply on a special website beginning yesterday; registration is free and lasts for 30 days. He said banking sector experts would identify the best business ideas within that deadline.
The rehabilitation of Kakheti has begun with a golf course in Kachreti. As Vakho Kandelaki, Manager of Hotel Ambassador, explained, this is "a huge luxury for the country and a new step forward".
Kandelaki said that his company's research has revealed the need for golf courses in Georgia. He hopes that in a year-and-a-half Georgia will be notable for its large course.
Brad Kennedy, a golf instructor, expressed his confidence that the hotel course – which boasts international standards, VIP services, and a private airstrip – would soon host not only Georgian, but international, golf players from all over the world, and even host the European Championship.
After the Kakheti development project is completed in 2013, the government plans to improve tourism potential and the agricultural sector in Imereti, western Georgia.