OSCE to send early monitoring mission to Georgia
By Gvantsa Gabekhadze
Tuesday, May 1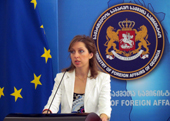 On June 11, an Organization for Security and Cooperation in Europe (OSCE) Office for Democratic Institutions and Human Rights delegation will visit Georgia, according to Deputy Foreign Minister Nino Kalandadze on Monday.
As previously announced, the Georgian government sent letters of invitation to a variety of international organizations, asking them to begin observation of the election process in Georgia several months before the elections themselves.
According to Kalandadze, the response from the OSCE was positive, and a delegation from the organization will assess the campaign environment and election preparations. "In the framework of the visit, delegation members will have meetings with the Central Election Commission, with political parties, and civil society representatives".
While the government claims that the letters were their idea, members of the opposition and civil society activists maintain that it was their pressure that forced the administration to take this step. "It was largely the [work] of Georgian Dream, which regularly informs the [international community] regarding illegal [activity] in the country. Due to our efforts, and pressure carried out on the government by the international community, such a step was made that is not really in the government's interest," leader of Georgian Dream, Bidzina Ivanishvili, remarked.
Georgian non-governmental organizations also point out that the activity of civil society played a serious role in the government's decision. As the coordinator of the National Platform, Ketevan Tsikhelashvili, told
The Messenger
, the presence of foreign observers in Georgia is a very serious and important development, as " the election is not only on election day, it is a whole process".
Analyst Khatuna Lagazidze believes that the attitude of Europe and the US regarding Georgian parliamentary elections differ from one another. "America has a very definite attitude and it openly demands the holding of free and transparent elections in the state, otherwise the relationship [between] the Georgian government and the US administration might stand under a question mark. However, we cannot say the same regarding the EU," she said.
The analyst also noted the recently-launched media monitoring project, conducted by NGOs from both the UN and EU, which she calls "doubled politics". She therefore concludes that American and European views may not coincide, "However, the final united position of Europe towards the Georgian administration is not still declared".
As fellow analyst Malkhaz Chemia told
The Messenger
, foreign observation missions will do their job. "It happens for the first time when foreign observation missions come several months before the elections – they will have time to reveal shortcomings and demand reactions to them".
Such optimism is not shared by political analyst Giorgi Khutsishvili, who doubts international observers can play such a key role in the election. "The legislation was so changed and fitted to government interests, there are so many shortcomings regarding election procedures and so many violations confirmed by the law, [that] observers will be hindered from disturbing the government's goals. In general, observers monitor the process, they do not make changes to it," he stated.