USAID Contributes to the Revival of the Rural Region
By Etuna Tsotniashvili
Monday, May 21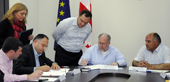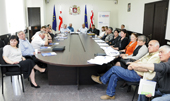 Through the NEO Project and others, the U.S. Government supports sustainable and inclusive economic growth that will benefit the residents of Racha – Lechkhumi and Kvemo Svaneti.
On Friday, representatives of USAID and Oni, Tsageri and Lentekhi Municipalities signed Memoranda of Understanding on cooperation under the USAID's New Economic Opportunities (NEO) Initiative. The MOU signed at the event outlines the development of community economic development plans and implementation of selected infrastructure and rural development projects in these three municipalities. USAID Mission Director Stephen M. Haykin and Governor of Racha-Lechkhumi and Kvemo Svaneti David Gagoshidze also joined the Utsera community meeting to speak with members of the community about economic development in their villages.
Already active in eleven communities of the Racha-Lechkhumi and Kvemo Svaneti region, NEO plans to support 13 infrastructure projects identified by the target communities and invest around $260,000 in projects that are expected to benefit approximately 1,300 households in this region. In addition, NEO plans to invest in rural economic development through technical assistance, grants, and training.
At a ceremony held in Ambrolauri, the governor of Racha –Lechkhumi, David Gagoshidze highlighted the key problems of the region with unemployment being one of the most acute of them. Gagoshidze outlined the importance of developing small fruit processing and beekeeping enterprises as well as supporting local tourism sector in the region. The Governor also expressed his gratitude to the U.S. government and the American people, as the projects being implemented by NEO in municipalities and communities throughout Georgia have been made possible through their assistance.
In response, USAID Mission Director Stephen Haykin said USAID has been a long-term partner for Georgians: "In fact, this year is 20th anniversary of USAID's partnership with Georgia. We have accomplished much over the last 20 years, working together with the Georgian people, but there is still work to be done. In this regard, the NEO project is one of the exciting ways to enhance well-being and create more economically stable and prosperous communities. The main benefit we expect will accrue from these projects is an improved economic infrastructure, and most importantly job creation."
During the Utsera community meeting, Shorena Metreveli, owner of one of the guesthouses in the village of Utsera mentioned her guesthouse accommodates both local and international tourists that come here every year. "With the number of tourists increasing every year, I realize I need to upgrade my guesthouse with some necessary equipment and furniture. Tourism industry dictates its rules and I have to move forward to meet the requirements of both local and international tourists," she said.
The newly appointed head of the Oni Municipality Valerian Gavasheli also expressed his readiness to support NEO initiatives in order to help people in communities like Utsera access economic markets, attract investment, and identify and implement economically useful infrastructure projects.
Kirk Ramer, NEO Chief of Party told The Messenger, "We help them [communities] realize their plans after they identify their priorities. Apart from other areas, whilst meeting Utsera residents we have understood that the tourism sector could be revived here and that the people have many opportunities to generate income locally." He added that people are very interested in the project and have been very active while working with the NEO.
During its operation, NEO will benefit at least 70,000 rural and vulnerable households in 10 municipalities: Dusheti, Stepantsminda, Kareli, Gori, Khashuri, Oni, Tsageri, Lentekhi, Zugdidi, Tsalenjikha. The project will result in sustainable poverty reduction, improved living standards for vulnerable populations, and increased local government participation in addressing community needs.
Prior to the MOU signing with the three municipalities, Stephen Haykin and David Gagoshidze joined local farmers to mark the opening of the Ambrolauri Machinery Service Center.
Avtandil Mikiashvili, owner of the center has received a USAID grant and invested an equal amount of his own funds to build and equip the new facility, which is now equipped with six tractors and 11 other agricultural machines. Mikiashvili will now provide fee-based machinery services such as planting, plowing, and cultivation for small farmers in the area. The USAID's project in Ambrolauri has resulted in the creation of 10 new jobs; it will also benefit 400 farmers and provide services for 300 hectares of land.
The U.S. Government is supporting the service center under its Access to Mechanization Project (AMP), a $5.1 million project administered by USAID. Overall, similar service centers across Georgia are expected to create up to 225 new jobs, provide services to 14,000 small farmers and increase agricultural revenues by $10 million.