Handicraft studio opening for IDPs
By Messenger Staff
Thursday, May 24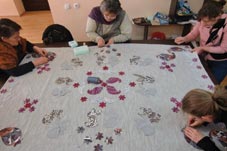 The EU funded project "Promoting the rights and social and economic integration of displaced women from South Ossetia" closes at the end of May, 2012 with opening a handicraft studio in Koda settlement in Kvemo Kartli.
The local government defined a venue for creating the studio which was renovated and equipped with the accessories, furniture, sewing equipment and tools required for proper training on handicraft development.
The project aimed at improving the capacity for small business management, providing support with the establishment of a handicraft studio organises psycho social rehabilitation activities for IDP women from January 2011.
Before the studio will be ceremonially open 15 women are being trained on small business and 40 – on handicraft development so that they would generate income for their families and entire settlement.
Duties have been distributed equally: some will be responsible for the management of the studio, others - production and marketing of products. By making handicrafts the women will have an occupation, a means for meeting on a regular basis (strengthening community ties) and a good basis from which to consider opportunities for increasing sustainable livelihood.
To ensure the sustainability of the handicraft development a sound business plan is essential so that 10 women trained on small business management will develop a business plan as part of the training. They will continuously provide advice to the women making handicrafts, from a financial and marketing point of view.
The project is implemented by the Foundation for Dialogue in Transition Regions (STIDIT) from the Netherlands in partnership with the Environmental Information and Sustainable Development Center "Rio" and the IDP Women Association "Consent" with the support from European Union (under the European Instrument for Democracy and Human Rights).
Koda which is located in a rural area has restricted opportunities for employment and income generating activities. Many IDPs lack the necessary resources (human, financial and infrastructure) to initiate their own income generating businesses.
The project hopes to create additional working places and generate income for the families in Koda by selling their products.