The dynamic effects of social media
By Ernest Petrosyan
Friday, May 25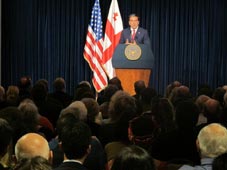 Today's social media drives politicians to work even in their free time, said Georgian President Mikheil Saakashvili in his remarks at the Ronald Reagan Memorial Foundation on May 24.
"I follow Facebook. All of my friends, even those who are politicians use Facebook for personal issues and not for politics. I do not want to minimize the mass media's role. I think in our country, the role of social media is more influential. However, it is very dynamic and makes politicians work on [their] days off."
Saakashvili also noted that the media is free in Georgia. As for social media, he noted that it is very important in terms of cultural exchange. "Here [social media] is the same as show business," he concluded.
Analyst Ramaz Sakvarelidze opines that social media is divided in Georgia. "One part of social media tends to be objective, which constantly puts pressure on the government. Another part, however, is pro-governmental, which supports the current regime, and conducts a positive PR campaign on behalf of the government," said Sakvarelidze.
Nika Chitadze thinks that social media is not always objective in Georgia, as there are plenty of situations when politicians use it to blackmail or to discredit their opponents. "For instance, there are plenty of things written about me in the social media [realm], which are absolutely not true. But I can agree, social media creates a kind of pressure for politicians," Chitadze said.