Chamber of control turns attention to Global TV
By Gvantsa Gabekhadze
Friday, May 25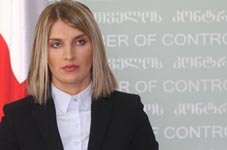 After several instances of imposing financial sanctions on opposition political entities, the monitoring service of the Chamber of Control has now begun to express its interest in media outlets.
The recent statement made by the department that is tasked with carrying out the financial monitoring of political parties in Georgia, reflects a message to the cable company Global TV. The monitoring department states that currently, the media is being utilized to spread information on behalf of the Georgian Dream political opposition party and this is being done for political purposes.
The departmentís statement reads that Global TVís employees carry out their activities dressed in Georgian Dream attire and are offering free services (antennas) to citizens. Such actions includes signs of bribing and within the mandate granted to the department through the law, the Chamber of Control is undertaking certain observation activities concerning the issue, including the survey of individuals.Ē
The monitoring service reiterates that their actions are targeted on political subjects and are not connected with Global TVís general activities.
For its part, Global TV states that all actions have been carried out only in the regions and were facilitated through the company budget. Furthermore, the expenses accrued had no connection with the Georgian Dream coalition. The arrangement provides customers the antenna free for one-year, with a nine-year instalment plan at 4 GEL per month. The service arrangement targets long-term investment and profit, and aims to promote and popularize the company, especially when the two leading TV channels (Imedi and Rustavi 2) have removed their broadcasts from Global TVís cable package.
The two major TV stations explained that the reason behind their pull out was due to new collaboration opportunities they had arranged with other companies. However, the leadership at Global TV openly suggests that the pull out of the two companies is a result of political motivations. It should be noted that both Imedi TV and Rustavi 2 are widely considered to be associated with being pro-government.
Global TV officials also point to the fact that the Global TV Company broadcasts billionaire businessman-turned politician Bidzina Ivanishviliís Channel 9. They cite this as another reason why the ruling authorities are targeting the cable station.
Channel 9 is currently available to those with a dish antenna via satellite through the Turkish satellite operator Turksat, as well as to subscribers of the Global TV cable network, which is co-owned by Ivanishviliís brother. No other cable operator carries the TV channel.