Serbia deliberates over recognition of Georgian breakaway regions
By Ernest Petrosyan
Tuesday, May 29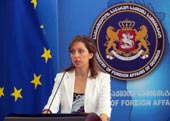 Serbia's national interest is in the protection of international law, said Foreign Deputy Minister Nino Kalandadze, at the traditional Monday briefing, voicing the statement of Serbia's President Tomislav Nikolic on Abkhazia and South Ossetia. She noted that Georgia has a very similar to the Serbian people and the relations of both nations are linked by Christianity and cultural relations.
"We also remember that in the 90s, both states had gone through the same tragic experience. At the same time, it should be noted, Georgia as well as Serbia, chose the European way, and are seeking European Union membership. It is always clear that the EU univocally recognizes Georgia's territorial integrity and within the internationally recognized borders. Accordingly, Serbia's national interest is to defend the rules of international law," said Kalandadze.
According to her, the Georgian side is convinced that the bilateral consultations will shed light on this issue, and the misunderstanding raised by the media will be resolved.
Recently, Serbian President Nikolic told the Moscow-based radio station Echo Moskvy that Serbia might consider the issue of recognizing the independence of Abkhazia and South Ossetia.
Referring to Kosovo's case, Nikolic was asked whether he was going to recognize the regions, and to describe his position on this case.
"These are different cases and different situations. And the whole world knows that the situation is different. Therefore, the same principles cannot be applied here and there, where you said - Abkhazia. We are considering this issue in our parliament," said Serbia's president to Echo Moskvi radio during his official visit to Moscow.
The journalist asked to clarify, whether he was implying the consideration of the status of Georgia's breakaway regions, Nikolic said: "Yes, if there is such issue in the parliament, it will be discussed indeed. We do not [want to] harm our interests in Kosovo. If you are respecting international legislation, then Abkhazia and S. Ossetia must be independent, Kosovo and Metoxia - no," responded.
Meanwhile, at the meeting with his Russian counterpart Vladimir Putin, it was said that Russia is ready to give Serbia an $800 million credit.
Analyst Paata Zakareishvili opines that such statements made by Serbia's president are aimed to blackmail Europe. "I do not think Serbia will recognize the independence of Georgia's breakaway regions. It will achieve nothing with it. However, much depends on Russia, and whether or not it starts to blackmail Serbia with the recognition of Kosovo, with the request to recognize Abkhazia and South Ossetia instead," Zakareishvili told
The Messenger
.
He also did not exclude that Serbia might recognize both Georgian regions at the expense of its European integration, as it is no more a foreign policy priority for Serbia. "Serbia has become pro-Russian, as the first visit of the president was paid to Moscow. Plus, there are anti-European moods in Serbia, so from the option of EU integration and Kosovo, the current government chooses the second," Zakareishvili added.
Analyst Mamuka Areshidze agrees that Serbia will use this issue for political speculations. "I think the probability to recognize both regions is very low, however, this issue is likely to be discussed in the Serbian parliament. It is commonplace in international politics to use such an issue for political bargain," Areshdize said.