NAEC Director dismissed by Education Minister
By Salome Modebadze
Tuesday, May 29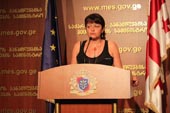 Maia Miminoshvili was removed from the directorship of the National Examination Centre (NAEC) on May 28. According to the official statement published on the web page of the Ministry of Education and Science of Georgia (MES), Minister Dimitri Shashkin made the decision because Miminoshvili's "principle incompatibility" with the policy of the MES during the reform process.
It was the sixth day of certification exams for graduating high school students and the Minister's sudden decision was unexpected for Miminoshvili. She said she couldn't understand what "principle incompatibility" the Minister had meant. "Now we were all oriented on exams," she said adding she had been dealing with her responsibility quite well. "I had my personal view about the educational system and criteria on how to estimate the [results of] exams and everyone has such a right," she said, stressing that despite the different views towards particular issues, she always followed Shashkin's decisions.
Miminoshvili said the meeting with the Minister was short. "I didn't ask him questions, just nodded my head and wished him good luck," she said, advising the media to address the Minister for more information. But as the press service of the MES told
The Messenger
, Minister Shashkin doesn't plan to make any public statement about the issue.
According to unofficial sources, the reason for Miminoshvili's dismissal was her son, Lasha Kanchaveli who participated in a demonstration held by Bidzina Ivanishvili's political coalition the previous day.
Miminoshvili said if this is the truth, it will be a "the total catastrophe." She said her son is adult and he lives with his wife - separate from her. The former NAEC director supposed that the only source of information [for officials] could have been the telephone conversation on the day of a protest rally.
Miminoshvili's colleagues from NAEC expressed their protest towards the Minister's decision, but in their statement, the MES promised that the NAEC would continue working within the ordinary regime and ensure smooth operation of School Certification Examinations and the university entrants for the Unified National Exams.
Maia Miminoshvili has been the NAEC director since 2005 – the year when the Unified National Examinations were introduced to the Georgian educational system as a modern way to conduct university admissions equally all over the country.
Although the Chairman of the Parliamentary Education, Science and Culture Committee, Goka Gabashvili couldn't answer why Miminoshvili was dismissed, he personally thinks that the former NAEC director has worked hard on developing the system of Unified National Exams and has made significant changes during these years.