Georgian Dream hopes for large Kutaisi rally and meeting with Clinton
By Gvantsa Gabekhadze
Tuesday, June 5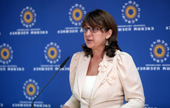 The Georgian Dream opposition coalition, led by billionaire Bidzina Ivanishvili, will hold a rally in Kutaisi on June 10 at 6pm.
Despite earlier problems acquiring a permit from the city, the rally will take place near Davit Aghmashenebeli Square. Maia Panjikidze, spokesperson for the coalition, said "The rally will be as exciting and massive as it was on May 27 in Tbilisi".
As political analyst Ramaz Sakvarelidze told
The Messenger
, the rally planned in Kutaisi will presumably be on a large-scale. "There is speculation... that compared to Tbilisi, where people are politically well-informed and [sympathetic to the opposition], the regions are more under government control and in an information vacuum. Thus, [analysts] suggest that... Georgian Dreamís rallies will be smaller - however, I donít support that view, as economic problems and discontent are significant in the regions. Furthermore, Imereti especially knows about Ivanishviliís charitable activities as the billionaire is from that region".
Panjikidze also announced that Georgian Dream has sent a letter to the US Embassy, requesting a face-to-face meeting between Ivanishvili and Secretary of State Hilary Clinton, who will be in Georgia on June 5.
United National Movement MP Akaki Minashvili called this ďunhealthy ambition", noting that Ivanishvili has refused to meet Clinton alongside other opposition leaders.
The US Embassy had previously confirmed that private meetings with individual opposition representatives are not planned.
As for Ivanishvili's hoped-for meeting with Clinton, Sakvarelidze that the US will refrain from openly supporting an individual opposition leader. "It will be a sign that the US supports current opposition actions... which may not be in the US's interests currently."