Survey finds migrants lack access to healthcare
By Gvantsa Gabekhadze
Tuesday, June 5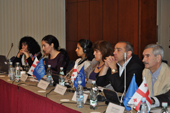 The International Organization for Migration (IOM) presented the results of their Migrant Health Survey at the Tbilisi Courtyard Marriott hotel on June 4. This is the first time such a survey was made in Georgia.
The survey was conducted in collaboration with the National Centre for Disease Control and Public Health and covered a diverse group of migrants residing in Georgia - internally displaced persons, returnees, foreign students, asylum seekers, trafficked persons, and foreign detainees.
The survey studied the prevalence and risk factors of non-communicable diseases (NCDs) among these groups, and focused on the knowledge, attitudes, and practices of Georgia's migrant population.
The IOM found that migrants generally lack information about NCDs, especially as they often lack knowledge of or access to treatment and insurance. They visit hospitals when they already have a medical problem, not as a preventative measure.
The survey also noted high incidences of smoking and alcohol use in all groups except the students, as they are primarily enrolled in the Medical University. This category also paid more attention to screening; however they rarely visit hospitals due to the language barrier and sanitary issues in the hospitals themselves.
IDPs were found to suffer from "complex problems", according to Lela Sturua and Nino Shushania, who worked on the project. Apart from general problems like unemployment and access to infrastructure, they suffer from psychological difficulties and a "disposition of loss".
Respondents identified a series of solutions, from ensuring available healthcare and medicine, to clarifying privileges concerning insurance, to better communication. The recommendations made by the IOM reflected these requests, and appealed to the government to make the healthcare system more accessible.
Representatives of the ministries responsible for healthcare and refugees said that they have conducted nearly 100 information meetings with IDPs, and re-iterated that that group has access to insurance and treatment. As for the other groups that fall through the cracks, the government officials noted that these issues are found even in developing countries.