Conference launches book on Black Sea region governance
By Messenger Staff
Thursday, June 14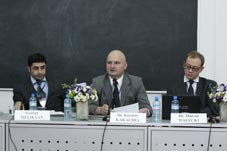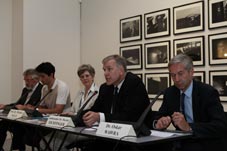 Last week, Tbilisi State University hosted an international conference on Good Governance in the Black Sea Region. The conference is part of a series that began in Odessa in May 2011, which brings together experts, academics, civil society representatives, and diplomats from different countries of the European Union and the Black Sea region to look at the state of play on democratic culture and governance, progress made to date, and challenges for further implementation in the future.
The conference aims to strengthen democratic institutions in the Black sea region as well as South Caucasus countries, and to share European experiences and introduce new opinions.
During the conference, a book launch was held at Europe House for The Culture of Governance: the Black Sea. This book is the fourth in a series on the Black Sea, and it assesses governance practices as well as considers how relevant European values are to the region.
The book's contributors argue that looking at the experience of a culture of governance elsewhere can help countries in the Black Sea region think about possibilities for improvement, particularly in the legislative and executive branches. Often, critics of young democracies note that governing parties still retain a kind of "revolutionary mentality" and operate in opposition mode whilst the parties out of power have not developed the culture of a loyal, constructive opposition. Political opposition is often weak and divided. Thus political "fighting" (sometimes literally) takes place, benefiting the governing parties more than democracy. Improved rights for opposition parties as well as increased responsibility and a system of checks and balances can create a culture for better governance.
The Culture of Governance
, sponsored by the Austrian Federal Ministry for European and International Affairs (Cultural Policy Department) and the City of Vienna, is edited by Dr Melanie Sully.