Czech Ambassador's visit to Abkhazia yields "valuable information"
By Ernest Petrosyan
Wednesday, June 20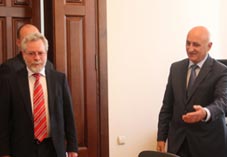 The local news agency
Apsnypress
reports that the Czech Ambassador to Georgia, Ivan Jestrab, held a meeting with breakaway Abkhazia's de-facto PM Leonid Lakerbaia in Sukhumu. The Czech delegation arrived in Abkhazia on June 16.
After the meeting with [de-facto] Abkhazian PM, Ambassador Jestrab told journalists that the meeting was valuable and that he will share the acquired information with the Czech government.
"We discussed the current situation in Abkhazia. He [Lakerbaia] informed us of the progress occurring in Abkhazia, and we openly discussed the issues and problems, as well as the needs of Abkhazians. This is valuable information, because I have a feeling that the Czech Republic does not have sufficient information about Abkhazia, its needs, and how we can get involved and help," said Jestrab according to
Apsnypress
.
PM Lakerbaia also hailed the open dialog with the Czech diplomat. "We talked about the possibility of establishing cooperation on various issues within the existing structures. We had the opportunity to present our vision of [our] relationship with European countries- the European Union as a whole. Taking into consideration that Abkhazia does not have such opportunities, such meetings should be used," remarked Lakerbaia.
Lakerbaya noted that Czech diplomats have received a great deal of information about the real situation in Abkhazia. Referring to the possible development of relations between Abkhazia and the Czech Republic, the Prime Minister stressed that we can talk only about the direct contact and not through Georgia.
According to him, during the meeting, the Czech Ambassador did not mention the Georgian strategy of involving Abkhazia. "However, the Czech Republic became the second country after Japan to recognize the so-called neutral Georgian passports. And, of course, I said that it would be better to come before this decision was made. Maybe it would not have been accepted so quickly," said Leonid Lakerbaya.