Chamber of Control deadline imposed on Ivanishvili
By Ernest Petrosyan
Wednesday, June 20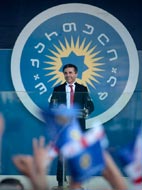 The Georgian Chamber of Control announced that Bidzina Ivanishvili has until Tuesday evening to pay his imposed fine. The Chamber of Control explained that the court's June 11 decision was officially recorded on June 12, and therefore, the fine deadline expired on June19 instead June 18.
"Yet there is time to refrain from comments on this issue," said the press service. A week after the expiration of the period set by the Civil Court, the Chamber of Control shall apply to the court with an enforcement letter, which will involve the National Bureau of Enforcement in this process.
According to Ivanishvili's lawyer, Shalva Tadumadze, he must notify Ivanishvili about the start of enforcement procedures within five-days after receiving the Enforcement Bureau letter. "After my notification, Ivanishvili should be given 7 days. After that, the enforcement bureau will forcedly withdraw the money," said Shalva Tadumadze.
As a result of GCC's two protocols and the Tbilisi City Court decision, Georgian Dream coalition leader Bidzina Ivanishvili was fined GEL 148, 650, 131. The fine was reduced to GEL 74, 325, 065 after Ivanishvili's lawyer appealed the court's decision in Georgia's appeals court. Bidzina Ivanishvili meanwhile, categorically refuses to pay fine.
Ivanishvili's lawyer Archil Kbilashvi is not sure that the national enforcement bureau will act in accordance with the law. "They can seize Ivanishvili's assets, set a price and then sell it on auction. This can be done either the following day after Ivanishvili's seven-day execution period expires, or within twelve- years," Kbilashvili said.