Funds for storm victims allocated, but questions remain
By Salome Modebadze
Wednesday, July 25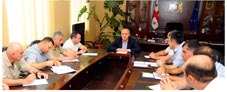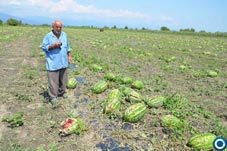 Prime Minister Vano Merabishvili said he will stay in Kakheti with the staff dealing with the post-storm situation to maximally support each affected family and ease their troubles. The governor of Kakheti, Giorgi Gviniashvili, said that 80% of roofs have been mended and it is supposed that in around 20 days most rebuilding work will be finished.
Merabishvili said the registration of storm-affected lands should end in ten-days. The commission studying the damage has to identify which category each family belongs to. The Ministry of Labour and Health and Social Affairs will distribute state compensation through banks straight after the ministry receives the full list of families and their categories.
People affected by Thursday's rainstorm in Kakheti, Samtskhe-Javakheti and Mtskheta-Mtianeti will be separated into three categories according to the damage and will receive state compensation of between 300 to 1,500 GEL. Families which have lost 100% of their crop will receive GEL 1,300-1,500; those with 70-80% loss will get GEL 800-1,000, while those with 50% damage will receive GEL 300-500 compensation from the state.
Merabishvilis said bank credits have been postponed for farmers who had taken loans to cultivate their lands. Students who have no state grant and cannot pay their university fees will also be registered by September 1. He said those families who are accidentally omitted from the above mentioned lists can address the local municipalities.
President's spokeswoman Manana Manjgaladze said at a briefing on Tuesday that every storm-affected family will receive financial compensation by August 15. She said parliament will adopt changes in the state budget at tomorrow's session so that over 162 million GEL will be mobilized from the state budget for short-term and long-term projects and emergency needs, from which GEL 50 million will be used for eradicating post-storm consequences in regions.
While meeting with parliamentary factions on Tuesday, Deputy Minister of Finance Papuna Petriashvili emphasized that the assignations designed for post-storm activities are adequate to the damage caused by last week's storm and added that the state budget has enough resources to eradicate the damage caused by the natural disaster.
National Democratic Party member Guram Chakhvadze advised the government to define the amount of compensation according to the individual damage of families.
Members of faction Unity for Justice wanted to know why a special 50 million GEL fund is necessary when the country has two 50 million lari funds for such occasions. Demanding information about the expenditure of government and presidential reserve funds, MP Gia Tsagareishvili wanted to know whether 100 million GEL was spent on "concerts and fireworks" or on assisting people.
But Petriashvili said money from these funds was accordingly used in previous months while the remaining GEL 40 million would not be enough for dealing with post-storm situation. Chairman of Christian-Democratic faction Giorgi Targamadze approved of the "rapid" budget changes but could not receive answers to the question whether Samtskhe-Javakheti and Mtskheta-Mtianeti will also receive financial support with Kakheti region. He said these two regions also have terrible damage and may face problems the entire year.
But Givi Amirkhanashvili, Deputy Governor of Mtskheta-Mtianeti told
The Messenger
that 920, 000 GEL from the state budget will be used for financial compensation and the rehabilitation of the region. Amirkhanashvili said most families in Mtskheta-Mtianeti would probably be in the third category with 50% damage, but two villages in Tianeti lost their entire crop.
Changes in state budget are planned to be adopted during Monday's session with first hearing.