Delays in Disaster Relief Assistance
By Gvantsa Gabekhadze
Wednesday, August 22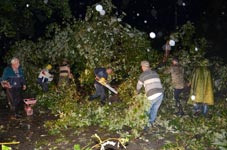 The Georgian Government promises that it will assist all residents who were seriously affected by the storm in Georgia on August 19th. Less than a month after a heavy hailstorm inflicted serious damage the Kakheti region was again affected by the rainstorm on August 19th. About 835 houses were left without roofs.
Special brigades immediately started repair work and according to the Deputy Governor of Kakheti, Giorgi Sibashvili the situation is under control.
Rustavi and parts of Tbilisi were also affected. According to Tbilisi Mayor, Gigi Ugulava, 2 million GEL will be allocated from reserve funds to ameliorate problems created in Tbilisi after the heavy rain.
Government representatives have already visited the affected regions. The Prime Minister of Georgia and other high ranking officials have already made promises that everything will be done to assist people affected and that senior government officials will personally observe the situation.
According to the Minister of Environmental Protection, Goga Khachidze roofing repair is ongoing. "We will assist all residents who have been affected and all of them will get adequate compensation." Khachidze said.
The Georgian Defense Ministry has also been involved in rescue activities and an engineering battalion of the Ministry is actively clearing the damaged areas, the Ministry has stated.
Georgian political opposition representatives blame the government in making PR without any real assistance of those people adversely affected by the hailstorm.
As the leader of opposition coalition Georgian Dream, Bidzina Ivanishvili underscored he is ready to transfer an additional sum to the budget to assist Georgian residents if the government fulfils one precondition.
Ivanishvili emphasized that he has already transferred 80 million GEL to the state budget to assist people in the Kakheti region affected by the hailstorm in July.
"If the government can adequately document how that money was spent I am ready to transfer more money to the budget in case if the authorities state that the existing disaster relief funds are not enough," Ivanishvili stated.
According to him the Government just boasts and does nothing to help people.
In response to such statements government representatives responded that Ivanishvili just paid a fine. Ivanishvili was fined for violation of the Law on Political Unions but refused to pay the money. After the first disaster in Kakheti region Ivanishvili stated that he was willing to pay the fine if the money would be allocated in the state budget to assist in disaster relief, as there was no other legal way for the coalition to help those affected. It is the government's prerogative how to spend money collected through fines.
It should also be noted that the compensation amount given by the government for people affected by the storm is 1500 GEL. Considering that the residents of Kakheti are left without a harvest and their houses need serious rehabilitation that is a minimal sum. What compensation will be given to those affected by the most recent storm is unknown.