Government reviews State budget plan for 2013
By Ana Robakidze
Monday, November 5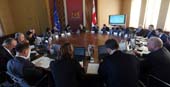 PM Bidzina Ivanishvili has called on Mikheil Saakashvili to move out from his lavish Presidential Palace as the maintenance cost of the palace and the administration is very high. Reportedly, tens of millions are spent annually on the Tbilisi, Bobokvati and Zugdidi Presidential palaces and also on two Parliament buildings in Tbilisi and Kutaisi.
During a recent press conference, Ivanishvili reported that an estimated 800,000 GEL was annually spent on electricity alone at the presidential palace. Also, about 800,000 GEL was spent monthly on the maintenance of one Saakashvili's two planes. This money was taken from Defense Ministry funds. Irakli Alasania said that his ministry cannot afford such expenditures.
The new government has always criticized the lavish expenditures of the state budget by the president and his family. A significant reduction in funding is expected soon.
While the new cabinet is still trying to calculate the exact amount spent on building the Presidential Palace, Ivanishvili says that there was no need to build it at all. "When we have so many IDPs in the country, so many poor families, it is immoral to live in such a palace," the PM explained.
Many Georgian experts do agree with the idea that the budget has been overdrawn during the last years. Sandro Tvalchrelidze, a Georgian scholar, told TV9 in his interview that roughly 1 billion GEL has been spent on the president and his administration since they came into power.
Money transfers from the state budget to the city municipality will also be significantly reduced, by about 100 million GEL. Nodar Khaduri, Georgia's Minister of Finance announced that in 2013 his institutional funding will be cut by 10% and the saved money will be sent on to infrastructure development.
In order to reduce budget spending Ivanishvili has called on the president to return to a government building known as the state chancellery, where his office was based before moving to the new palace in 2009. The state chancellery houses PM's and several state ministers' offices, as well as the National Security Council. "I call on Saakashvili to vacate the palace and let him move here in the state chancellery," Ivanishvili said.
State budget planning for 2013 has already been reviewed by the new government and the cabinet promises that the money saved from the funding of the president and his administration will be funneled towards several developing social projects. The new budgetary plan will be presented for approval in parliament on November 5th.
The Ivanishvili government will also consider moving the parliament back to Tbilisi, which requires constitutional changes. Therefore, the Georgian Dream will need the support from MPs who do not belong to the coalition.