Angelina Jolie donates school uniforms and toys for Georgian IDPs
Wednesday, November 21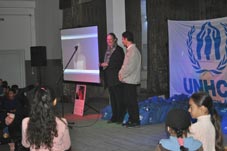 On November 20, toys, school uniforms and playground equipment donated by Angelina Jolie and the Special Envoy of the UN High Commissioner for Refugees, were given to children in the Koda settlement for internally displaced persons (IDPs), in the Tetrtskaro region.
Encouraged by the NGO– "Coalition for Justice", internally displaced children made colorful drawings for Angelina Jolie for World Refugee Day in June of this year. The office of the United Nations High Commissioner for Refugees (UNHCR) in Georgia sent all the drawings along with children's messages to the world-famous actress.
"I am touched by the emotions and enthusiasm put into these drawings," Angelina Jolie said and expressed her good will to the children residing in the Koda settlement.
"In exchange, I'm sending you school uniforms and toys. But most of all, I hope that one day we can meet, and I can come and see you," says Angelina Jolie in her video message to the children in the Koda settlement.
The UNHCR addresses the protection and assistance needs of some 276,000 persons of concern in Georgia, which includes more than 270,000 internally displaced people, around 1,500 de-jure stateless persons and 450 refugees.