President emphasizes Georgia's progress with youth group
By Messenger Staff
Wednesday, November 21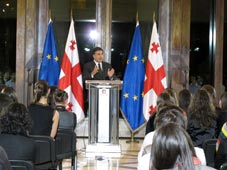 Georgia's President Mikheil Saakashvili met with members of the youth parliament at his palace on Wednesday. The President talked about the current events in the country and cast his attention on several acute issues.
Saakashvli reiterated that he is ready for cooperation with the newly elected government and expressed his readiness to share his experience with them. According to him, Georgia has a historic chance to turn into a democratic state and everybody should take advantage of this opportunity.
"We have showed the rest of the world that we have built a democratic system, where people have the chance to elect a new majority and a new government. We have showed them that the transition of power happens not through revolutions or other manipulations, but through elections and within the framework of democracy," Saakashvili said.
The President advised the new government to start fulfilling its campaign promises instead of acting out of revenge. "Our beloved Georgia is at a crossroads. I want to address you, not as part of my political goals, but as the President, as a citizen. For the first time in our history, power was transferred smoothly. We have heard a lot of things. Some said Saakashvili declared change of the government because the Americans called him. Nonsense; I don't need anyone's call. I made my [own] decision, as I wanted to build a democratic system, where the new majority would be selected. I want Georgia to be a country where people do not kill and arrest as the power changes, but instead a place where life continues," Saakashvili said at the meeting.
The head of state shared his sorrow with the young people, saying that he is astonished over the recent detentions in the country, adding that people need changes and help with regard to social care problems and the country's future. The Georgian people do not need revenge and hatred, Saakashvili added. Saakashvili compared the recent detentions to the repression of the French Revolution leader Maximilien Robespierre.
"In private and public talks, some messages were heard. We hear only one phrase... "Everyone must be detained." The chief prosecutor declared that there is not a member of the old government who is not on the list of people who must be arrested. Maybe it is not the exact comparison, but it reminded me of the repression of the French Revolution leader Robespierre," he added.
The president also talked about the state budget and said that the GEL 8 billion budget is a result of his government's work and "the money was not sent by a rich uncle," [a reference to Bidzina Ivanishvili]. Saakashvili recalled the year he came into power and emphasized that in that period of time, the state budget was GEL 500 million.
"Does anyone think that a really rich uncle sent us this money or some billionaire gave it to us? No, this is money came from collecting taxes and the decrease in corruption," he concluded.