Igor Giorgadze wants to return to Georgia
By Salome Modebadze
Tuesday, December 4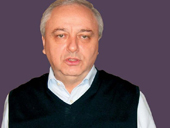 Former Minister of State Security, Igor Giorgadze, requested that the General Prosecutor's Office remove him from the list of wanted men. Giorgadze said in a video call from Moscow that he wants to return to Georgia.
Giorgadze said he has never stopped his political activities abroad. Having established an association, Giorgadze said he always used his "serious contacts" on behalf of Georgia. He said he has met with various Georgian politicians to learn about their plans for overcoming "the blind alley" created by Saakashvili's governance.
Discouraging Saakashvili's "dictatorial regime" Giorgadze said the president has put an end to Georgia's statehood. "Statehood is impossible [to imagine] without our territorial integrity," he said.
Giorgadze said Saakashvili's team has damaged relations with Russia so much that it will be hard for the new government to normalize Georgian-Russian relations in the future.
Welcoming the first steps made by the new government for restoring justice, he said there have been a lot of criminal cases during the nine years of Saakashvili's governance.
Giorgadze who attacked then President Eduard Shevardnadze in 1995, said he has not been officially charged by any government or sentenced by the court. According to Giorgadze, he is wanted based on the testimony of three people who finally denied allegations against him.
According to Giorgadze, Mikheil Saakashvili's government ignored his request to sentence him without his presence.
UNM member Shota Malashkhia said ironically that the list of political detainees has so many "similar" faces that Giorgadze can be easily added to the list.
Political analyst Ramaz Sakvarelidze thinks that Giorgadze can act like former minister Irakli Okruashvili and stand against the court.
However, Sakvarelidze doubts that Giorgadze's connection with the terrorist attack against Shevardnadze will be reason enough for the Ivanishvili's government to neglect Giorgadze's request.
Considering the negative approach of the Saakashvili government towards Russia, Sakvarelidze said Giorgadze's rhetoric often used to be similar to Russian. "The fact that Giorgadze felt free in Russia after the terrorist act makes it easier to believe that he might have been carrying out Russian policy," he told
The Messenger
.