The 13th annual EU-Georgia cooperation council session
By Ana Robakidze
Thursday, December 20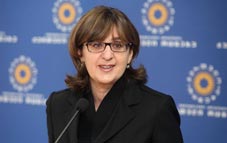 The European Commissioner for Enlargement and European Neighborhood Policy, Stefan Fule hopes to conclude discussions over the Association Agreement and Comprehensive Free Trade Area (DCFTA) at the Eastern Partnership Summit in Vilnius, in November of 2013. The statement was made at a press conference after the 13th annual EU-Georgia cooperation council session, held in Brussels.
The session took place on December 18th and was attended by the European Commissioner for Enlargement and European Neighborhood Policy Stefan Fule and Erato Kozakou-Marcoullis, Minister for Foreign Affairs of Cyprus, whose country holds the current EU Presidency. The Georgian delegation, which was also joined by the State Minister for European integration Aleksi Petriashvili, was led by the Minister of Foreign Affairs of Georgia Maia Panjikidze.
The session was the first to take place since Georgia's new government took office following the parliamentary elections of October 1 of 2012. The European Neighborhood Policy Action Plan, EU Eastern Partnership Initiative, ongoing reforms in Georgia and the regulation of Russian-Georgian relations were the major topics of the meeting in Brussels.
Kozakou-Marcoullis said at the news conference after the meeting that the EU absolutely welcomes the first direct talks between Georgia and the Russian Federation since 2008 and calls on Georgia to continue the negotiation process. Stefan Fule commented that improving Georgian-Russian relations is in EU's interest also.
Fule said at the news conference that Georgia and EU have made a real progress in working on the Association Agreement, which includes the Deep and Comprehensive Free Trade Area (DCFTA) and visa liberalization dialogue. Fulle also clarified that ending negotiations does not mean that the agreement will be signed instantly; the EU may need several months to conclude a legal and technical check and prepare the final document to be signed by the sides. The Georgian Foreign Minister confirmed the readiness of her country to fulfill the requirements necessary for receiving the Association Agreement.
"We want to develop this integration process still further, as long as Georgia continues to show that it is our willing partner, accepting EU values and standards. We very much appreciate the readiness of the new government team to maintain continuity in these efforts," Fule said at the news conference. He also confirmed that the 13th Council Session should "be seen as part of a pattern of intensified EU-Georgia relations."
The EU has been providing significant financial assistance to Georgia, which is 181 Million EUR in the period of 2011 to 2013. It was announced that the EU mobilized an additional ˆ22 million for Georgia this year in recognition of its reform efforts.
The sides agreed that in 2013, Tbilisi will host informal EU meeting within the framework of the Eastern Partnership.