Ten Broeke meets the Georgian ministers
By Ana Robakidze
Thursday, January 10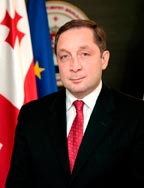 Chairman of the Defense Committee of the Dutch Parliament, Ten Broeke, continues his visit in Georgia. He held a meeting with the State Minister for Euro-Atlantic Integration Alexi Petriashvili, as well as with the representatives of the European Union Observers' Mission on January 9th.
The meeting with the state minister was held at the State Chancellery and lasted for about an hour. Parties discussed issues of bilateral relations and Georgia's perspectives for integration with NATO and the EU.
Minister Petriashvili informed journalists that he exchanged views with Broeke on the possible ways of speeding-up the process of integration with NATO and how the Netherlands can help with the process. "We also spoke about security issues," said the State Minister.
According to Broeke, he can clearly see good attempts at cohabitation in Georgia. He also spoke about the necessity of establishing good relations with the opposition. "I had myself been in the opposition for a long time. Good relations between the opposition and the government are in the interests of the country. I feel they will be able to fulfill it. Each government needs good opposition," Broeke told the media after the meeting.
Broeke also expressed his hope that Brussels will support the idea of holding the North Atlantic Council (NAC) meeting in Georgia.
The Chairman was also hosted by Georgian Minster of Foreign Affairs, Maia Panjikidze. The parties discussed the future relations between Georgia and the Netherlands (including agricultural relations) and the main priorities of the foreign policy the new government has set. Brook emphasized the success Georgia has had on the way to integration with NATO and the EU and discussed with the minister several key issues related to the Geneva Talks. The Chairman of the Defense Committee once again reiterated that the Kingdom of the Netherlands holds a firm position in its full support of Georgia's territorial integrity.
Ten Broeke also met several representatives of the legislative body. Broeke will also visit the de- facto border with the breakaway region and wrap-up his visit to Georgia today.