US Congress members concerned over the latest events in Georgia
By Ana Robakidze
Monday, February 18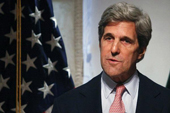 A letter signed by Michael Turner, Chairman of the US Delegation at the NATO Parliamentary Assembly, Mario Diaz-Balart, Chairman of the Transatlantic Legislators Dialogue, and Bill Shuster and Allyson Schwartz, both co-chairs of the Congressional Georgia Caucasus was published in the magazine The Hill on February 15th.
The gravest concern about the recent events (the in incident on February 8 in front of the National Library, where the president had planned to hold his address to the nation, but former political prisoners and other activists clashed with National Movement members of parliament and prevented them from entering the building) is expressed in the letter. The authors fear that Georgia's recent democratic advances may be threatened. "The developments in Georgia, which include investigations and arrests of former government officials and civil servants, required the immediate attention of the United States." the letter says.
The letter is addressed to Secretary of State John Kerry and the authors have appealed him to use the full diplomatic resources of his department to avert a political crisis in Georgia. "We encourage you to utilize the full diplomatic resources of the State Department to respond to this emerging crisis," the authors say, asking John Kerry to "take steps to affirm the United States' interests in a free and democratic Georgia" in the interest of protecting "the rights and liberties of the Georgian people and preserving the fledgling Georgian democratic institutions."
The Hill says in the article that current Georgian government, which has contacts with Moscow, ordered to arrest former government officials and civil servants.
Georgian Minister of Foreign Affairs Maia Panjikidze commented on the letter and as a reply said, that the congressmen are not properly informed on the current situation in Georgia. She advises congressmen and any other individual who may be interested in Georgia and the country's relation with the U.S, to visit Georgia and study the situation locally.
However, political analyst Nika Chitadze told The Messenger U.S congressmen seem to be really worried about the latest events in Georgia, which is absolutely natural, as the U.S has particular interests in Georgia and in the region, therefore congress would not want the country to lose democratic values and principles. Chitadze is confident that the diplomats who arrived at the National library to attend the President's annual address to the nation had a chance to be witnesses of the incident. Therefore, they could provide their governments with accurate details. The expert is sure that the letter cannot be a result of the lobby groups working on President Saakashvili, as U.S diplomats in Georgia would have informed the congress in detail.