The Executive Vice-President of the Atlantic Council visits Georgia
By Ana Robakidze
Wednesday, April 10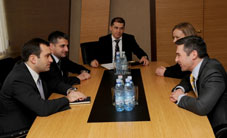 The Executive Vice-President of the Atlantic Council, Damon Wilson, paid an official visit to Georgia. Wilson met with the Minister of Defense Irakli Alasania and discussed future cooperation issues between Georgia and Atlantic Council.
Executive Vice President of Atlantic Council appreciated the progress of reforms in the ministry and said that the council works to promote Georgia's Euro-Atlantic integration and to construct the ties and relationship with the Alliance, with NATO and the role in Afghanistan. "I have been delighted to have a talk with the minister about Georgia's strong reform program... We continue to work hard to ensure that the process of Georgia's integration into NATO and cooperation with NATO is deepened. Also of great importance is the participation of Georgia in the international mission in Afghanistan. I'm glad I met with the minister, and he and I discussed the ongoing reforms in Georgia," Wilson said after the meeting.
"We had a very interesting meeting with the North-Atlantic Council representative. We talked about our participation in Afghanistan and the post-ISAF period, we also briefed Mr. Wilson on the plans and reforms undertaken by the Ministry of Defense of Georgia," said Irakli Alasania.
Wilson also met with the State Minister for European and Euro-Atlantic Integration of Georgia Aleksi Petriashvili. The sides discussed the prospects of Georgia's integration into NATO, as well as plans for future cooperation and issues related to security and the democratic process.
"The minister and I talked about the future of Georgia, the prospect of European integration. I'm glad I can see the progress achieved by Georgia as a result of consultations with the alliance, and that the country develops the national annual program. I am optimistic about the relations between Georgia and NATO," Wilson said.
According to the office of the State Minister, the Vice-President of the Atlantic Council reiterated the council's support of Georgia and its willingness to continue cooperation with the country.
"The meeting with the representative of such an influential organization is very important because together we discussed the plans of the Georgian Government on accession into NATO," Petriashvili said, adding that the meeting was very fruitful.
Wilson and the state minister also discussed the details of the future Atlantic Council visit to Georgia.