Georgia commemorates fallen heroes
By Messenger staff
Wednesday, April 10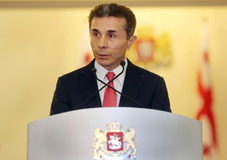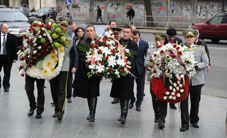 On April 9, 1989, Soviet armed forces dispersed a peaceful demonstration where protesters demanded Georgia's independence on Rustaveli Avenue. 21 people died while others were poisoned by toxic gas.
A group of students who had gone on hunger strike were joined by hundreds of demonstrators later that night. It was around 4 am on April 9 when the Russian army led by General Rodionov, crushed the rally.
Since then, the Georgian people have been commemorating the fallen heroes at a special memorial in front of the Parliament building in Tbilisi – the place where the massacre happened.
Two years later on April 9, 1991, Georgia's first President Zviad Gamsakhurdia declared Georgia's independence.
Members of current Georgian government visited the April 9 memorial. Later Ivanishvili said that it equaled heroism to sign the act on restoration of Georgia's independence in 1991, because he said the Soviet Empire was capable of doing anything and April 9, 1989 had proved that. He said that the current government will do everything not to endanger the country's major historical achievement – independence.
Davit Bakradze leader of Parliamentary minority United National Movement (UNM), who also attended the event, said that April 9 is a date that has changed Georgia's present and future. He said 24 years ago the Georgian people proved they had "the moral right" to be free and independent, while in two years since the tragic events, this right turned into political and legal independence. He said in April that people with different political values stood side-by-side.
Minister of Defense Irakli Alasania said the 9th of April is not only a day to pay tribute to the remembrance of the heroes who sacrificed their lives for Georgia's independence, but also a day of solidarity for the Georgian nation. "I would like to see such unanimity of our people without a tragedy like 9 of April," Alasania said.
Leader of Democratic Movement Nino Burjanadze said it does not matter how much time will pass since the tragic events, April 9 will remain as the date when Georgian people showed the world that they can struggle for independence of their country and their own dignity.
Paying tribute to the April 9 heroes, US Ambassador to Georgia Richard Norland said he and Deputy Assistant Secretary Eric Rubin were personally engaged in the US-Soviet Union relations and in the processes underway at that time. Norland, who was working in the US Embassy to Russia during that period, said he remembered the tragedy very well.