PACE co-rapporteurs pay a fact-finding visit to Georgia
By Ana Robakidze
Friday, April 12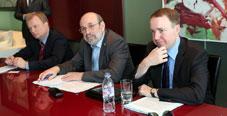 Michael Aastrup Jensen (Denmark, ALDE) and Boriss Cilevics (Latvia, SOC) co-rapporteurs of the Parliamentary Assembly of the Council of Europe (PACE) arrived in Tbilisi on April 8th, in order to begin a fact-finding visit to the country. The two co-rapporteurs said the aim of their visit is to familiarize themselves with the situation in Georgia and study the recent laws adopted by the Parliament of Georgia.
"Things are changing in Georgia and we want to discuss these changes with representatives of both the majority and the opposition and become familiar with their assessments of what is happening." Jensen said.
The PACE co-rapporteurs are mostly interested in the recent regulatory laws passed by the Georgian Parliament and in the planned amendments to the legislative system. Cilevics and Jensen have already had meetings with Vakhtang Khmaladze, the Chairman of the Parliamentary Committee of Legal Issues, and Eka Beselia, the Chairwoman of the Parliamentary Committee of Human Rights and Civil Integration, as well as Parliamentary Speaker Davit Usupashvili and the parliamentary majority.
Usupashvili and the PACE representatives discussed the issue of democratic development in the country. The co-rapporteurs praised the constitutional changes and the foreign policy declaration adopted by Parliament. They said these amendments can be assessed as a very successful step. Cilevics and Jensen have received information that President Mikheil Saakashvili is going to veto the planned amendments to the Organic Law on the Common Courts of Georgia. Usupashvili advised them that MPs are not aware of the Presidentís final decision. The parties discussed the draft in detail.
The Parliamentary Chairman said after the meeting that the PACE representatives have no objections to the proposed amendment to the Organic Law on the Common Courts of Georgia. Usupashvili added the co-rapporteurs think the document corresponds to the Venice Commission's recommendations.
Khmaladze provided the co-rapporteurs with information on the ongoing reforms in the judiciary and on the work of the commission established specially for identifying flaws in the judicial system.
The delegation also held meetings with government representatives including Prime Minister Bidzina Ivanishvili, the PMís Special Representative for Russian Relations Zurab Abashidze, Public Defender Ucha Nanuashvili, Chairman of the Supreme Court Konstantine Kublashvili, and other officials.
The visit was summed up at a press conference on April 11th. The delegation leaves Georgia on April 12th.