Philip Dimitrov meets with MPs in Kutaisi
By Ana Robakidze
Tuesday, May 14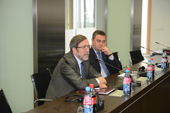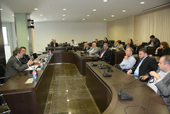 Philip Dimitrov, the head of the EU Delegation to Georgia, met Georgian MPs on May 13th.
The meeting was initiated by the Committee on European Integration. Participants discussed important issues in relations between Georgia and the EU.
The meeting was open to all MPs. However, representatives of the minority were not present at the meeting.
"This is an open meeting and every MP can attend," Dimitrov said after the meeting. The EU ambassador commented on Georgia-EU relations and emphasized the importance of the year 2013.
Dimitrov said that he discussed current Georgia-EU relations, as well as relations with other neighbors and Georgia's prospects for Euro integration.
Head of the Committee on European Integration, Victor Dolidze, positively assessed the meeting and said that there has been a very good practice established in parliament: ambassadors visit the legislative body and hold productive meetings with MPs.
"The meeting was meaningful. We discussed the association agreement, free trade relations and visa liberalization," Dolidze said. According to him, Dimitrov emphasized the civilized processes that have been ongoing in the country recently and stated that Georgia is approaching the EU.
Dolidze is looking forward to continuing similar meeting and consultations in the future. He is sure that frequent meetings with the EU officials will promote the integration process.
Dimitrov is looking forward to the Vilnius Summit of 2013. He expressed hope that Georgia will be able to initiate an association agreement at the summit. The country is taking huge steps forward on the way to European integration, the EU official said. He also revealed that sometime by the end of May 2013, the final draft of the agreement will be ready.
After the meeting, Dimitrov and Dolidze opened an exhibition dedicated to European Day in the parliament lobby.