Privacy issues discussed
By Ana Robakidze
Tuesday, May 21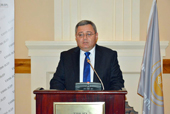 Parliamentary Chairman Davit Usupashvili said Georgia needs legal and institutional guaranties that there will be no video or audio material obtained illegally and used for the purpose of blackmail against individuals. "Also we need to be sure that the material that has already been obtained will be immediately destroyed," Usupashvili said at a joint session of the Human Rights and Legal Issues Committees of the Georgian Parliament at the Hotel Holiday Inn, Tbilisi, on May 20, where the amendments to the Criminal code and the legislative regulation of covert surveillance and recording, obtaining information from communication channels and computer systems, secret video and audio recordings, film and photography used in search operations, as well as the problems of observing the rule of law in this area were discussed.
Public defender Ucha Nanuashvili, representatives of the government and the judicial system, international and local non-governmental organizations and experts also attended the session.
NGOs working on human rights say that all video/audio material containing an individual's personal data or private life material should be immediately destroyed, unless the material represents important evidence in a criminal investigation process. In order to prevent the violation of personal lives and the privacy of individuals, obtaining secret video and audio recordings should be done under very strict regulations and circumstances, says Eka Popkhadze, Executive Director at Georgian Young Lawyers' Association (GYLA).
MPs agreed that the issue will require a package of amendments or even a separate law to be drafted.
The EU Special Commissioner in Georgia, Thomas Hammarberg, welcomed the joint meeting of the committees. "The illegal recording of the private lives of individuals for the purpose of blackmail is a serious matter," Hammarberg said, fearing that there might be many other illegal recordings available at the Internal Affairs Ministry. The EU official says it is essential to ensure that the illegal recordings already made are destroyed. At the same time, regulations should be adopted ensuring that for investigative purposes, surveillance activities are done according to the law and only approved by a judge.
Protection of private life became an issue recently, when a sex video of three individuals became available on social networks on April 3. The fact was highly criticized in the government as well as in society.
Reportedly one of the individuals was a journalist, Giorgi Paresishvili. As investigation revealed the video was leaked from the Ministry of Internal Affairs, with the help of the first deputy-minister Gela Khvedelidze. He had a personal dissatisfaction with the work of the journalist and therefore, decided to upload a sex video on the internet.