Former high officials detained on criminal charges
By Ana Robakidze
Wednesday, May 22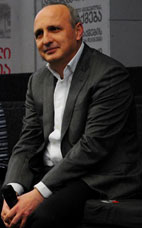 Secretary General of the National Movement Vano Merabishvili and Kakheti's Regional Governor, Zurab TTchiaberashvili, have been detained by the prosecutorís office in Kutaisi.
On May 21st, Merabishvili and Tchiaberashvili were summoned for questioning to the Imereti Regional Prosecutor's Office with regard to the investigation into the state employment program and May 26 events. On the same day, Prosecutor Shota Tkeshelashvili held a special briefing at the Kutaisi prosecutorís office.
According to Tkeshelashvili, Merabishvili may face charges in connection to several different cases. He is accused in being involved in corruption while holding a post of Prime Minister of Georgia. Also he is allegedly involved in the misappropriation of private property, as well as in the embezzlement of 158,000 GEL in 2009, when he served as interior minister.
Merabishvili and Tchiaberashvili are alleged to be involved in the misspending of 5.2 million GEL in public funds. In 2012, the previous government launched a new program and announced the registration of unemployed citizens and creating a data base. The Social Service Agency at the Ministry of Healthcare and Social Affairs was in charge of the procedures. According to the Prosecutors Office, around 22,000 individuals were hired to carry out registration procedures. Each agent was paid about 240 GEL. In total, 5.2 million GEL was spent on their salary.
The prosecutorís office says registrants were engaged in the United National movementís (UNM) campaigning and the program actually aimed at channeling public funds to the UNMís election campaign.
The Prosecutorís Office announced that the scandalous case of Sandro Girgvlianiís murder has been investigated and all the people taking part in it, as well as the real motive of the crime, has been identified. Allegedly Merabishvili is involved in the case by taking falsified legal action, purposefully hindering the administration of justice.
The May 26 protest in 2011 was dispersed by the direct order of Merabishvili, Tkeshelashvili said in Kutaisi. Demonstrators were targeted by excessive force, causing the deaths of two and injuring many.
UNM members say the prosecutorís office has no evidence against Merabishvili and Tchiaberashvili and their detention is nothing but a political decision.
MP from the UNM, Chiora Taktakishvili, says that the charges against Merabishvili and Tchiaberashvili are groundless and prosecutor simply decided to get rid of PM Bidzina Ivanishviliís major political opponents.
According to Merabishviliís attorney, the UNM Secretary General deems himself innocent and says the charges against him are simply ridiculous.
President Saakashvili's says the detention of Merabishvili and Tchiaberashvili is in Russiaís interest only and the fact will hamper Georgia on the way to Euro-Atlantic integration.
PM Bidzina Ivanishvili refrained from making a comment on the detention of UNM high officials and said that court is the institute authorized to make decisions on criminal cases. Therefore Ivanishvili advises society to wait for the courtís decision on the cases.