Russians intensify patrolling along the "occupation line"
By Ana Robakidze
Friday, May 31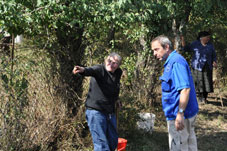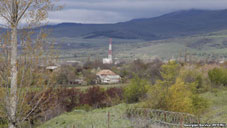 Russian troops have detained a 24 year old resident of the village of Ditsi, Rostom Sosiashvili.
The Georgian Ministry of Internal Affairs (MIA) has already informed the European Union Monitoring Mission (EUMM) of the detention of the Georgian citizen.
The MIA held a special briefing and said that Sosiashvili was detained by Russians for illegal crossing of the border. The Ditsi resident was arrested on the territory controlled by the Georgian military and reportedly he was taken to Tskhinvali. The Ministry has already notified the European Union Monitoring Mission (EUMM), which has been monitoring the border since 2008.
According to the Minster of Reintegration, Paata Zakareishvili, the Georgian side has already started negotiations with the Ossetians and Sosiashvili shall be released in the near future. The EUMM is also involved in the negotiations process.
The situation near the village Ditsi seems to be escalating. Russian occupation forces have intensified patrolling along the occupation line.
Georgia is trying to attract international attention and resolve the situation. The Minister for Foreign Affairs, Maia Panjikdize says the international partners are the only organizations which have an influence on Russia and will stop Russian border guards. According to Panjikidze, the Ministry is doing everything possible to provide the partner countries and the international organizations with detailed information on Ditsi village, where Russians still continue to erect wire borders.
"My deputies have already held meetings in Strasbourg and Brussels, where they notified EU Ministers and the headquarters of the Council of Europe on the illegal activities… International pressure can play its role in resolving this situation," The Minister said.
Panjikidze hopes the West will put pressure on Russia and it will meet the requirements of the Agreement of August 12, 2008 on the complete withdrawal of its troops from Georgia. The Minister does not hide her disappointment in the Russian Federation. Panjikidze says more positive steps were expected from Russians, as the Georgian Government has been trying to do everything possible to resolve the conflict.
The Georgian side is looking forward to the meeting between Zurab Abashidze, the Georgian Prime Minister's Special Representative in Relations with Russia and Grigori Karasin, Deputy Foreign Minister of the Russian Federation, which is planned to be held on June 5th and the Geneva Talks, which will take place on June 26th.
Abashidze explained earlier that considering the format of the meeting he will not be able to hold comprehensive discussions of the Ditis incident with Karasin, but he will definitely touch upon the problem.
Security issues are usually discussed within the framework of the Geneva Talks. Therefore, Abashidze thinks Geneva is the place for Georgia to express its position with international organizations and western partners.
Before holding the Geneva Talks the Georgian Government is going to study the situation locally. The Ministry of Reintegration, the Ministry of Infrastructure and the Ministry of Agriculture will create a joint group to study the problems of the residents along the occupation line.