Rasmussen: stable, democratic Georgia belongs in Euro-Atlantic community
By Ana Robakidze
Thursday, June 6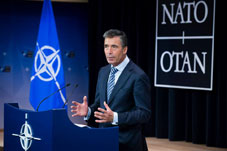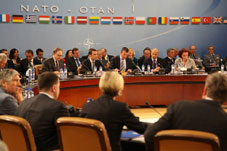 The NATO-Georgia Commission session took place within the framework of the NATO Defense Ministerial in Brussels. The session was opened by NATO Secretary General Anders Fogh Rasmussen. "I am pleased to welcome you to the meeting of the Georgia-NATO Commission. Georgia is a special partner for NATO and a nation that wishes to become a member of the alliance. Its commitment to the NATO-led operation in Afghanistan is significant. Georgia is indeed the number one non-NATO troop contributor to ISAF. We greatly appreciate the act of support of Georgia for our operations both in the past and currently," Rasmussen said in his welcome speech.
"A stable and democratic Georgia has its place within the Euro-Atlantic Community. And I look forward to a future when Georgia will be the part of the alliance. The decisions taken at the NATO Summit in Bucharest remain valid. Georgia will become a member of NATO as soon as it fulfills the membership criteria," Rasmussen said.
Following the NATO Secretary General's speech, Minister of Defense of Georgia, Irakli Alasania, addressed the ministers of defense.
According to the ministry's official web-page, Alasania "focused his attention to the reforms ongoing in Georgia and in the field of defense of the country, as well as on Georgia`s involvement in the ISAF mission. The minister outlined that by its contribution to the NATO-led mission in Afghanistan, Georgia reaffirms that it is not only a consumer of security, but is actively engaged in establishing peace worldwide."
Alsania held a number of meetings within the framework of the NATO Defense Ministerial. The Georgian minister met with his counterparts and also held separate meetings with the Secretary General and NATO Secretary General's Special Representative for the Caucasus and Central Asia, James Appathurai.
The significance of Georgia's participation in the ISAF mission was outlined at the meeting between Alsania and Rasmussen. The NATO Secretary General thanked Alasania for the contribution Georgia provides to the international security operation.
"As James Apathurai reaffirmed, Georgia will become a member of NATO, but talking on the terms in advance is premature," Alsania stated after the meeting with Appathurai. The minister said that Georgia will reform its defense and justice system and be fully prepared for the next NATO summit.
"Political reforms launched by our government are one of the main preconditions for Georgia to meet NATO's integration standards," The minister said.