Georgia still seeking for international support to solve the situation in Ditsi
By Ana Robakidze
Wednesday, July 17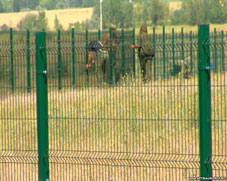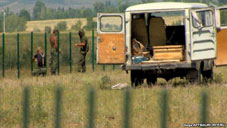 Russian occupants continue to install metal fences along the occupation line in the village Ditsi. The locals address the government and ask for help. They say fences have separated them from their own agricultural lands, pastures and family cemeteries as well as the irrigation system, which is used by the whole village.
Meanwhile, five Georgian citizens were detained by Russian soldiers for violation of the so- called border. The detained individuals are from the villages Akhalubani and Khviti. Allegedly they were taken to Tskhinvali and are being kept in a military preliminary detention cell.
The Georgian government is going to use its diplomatic levers against the illegal actions of the Russian soldiers. The government says international society is the only tool against Russian aggression.
Deputy Foreign Minister, Giorgi Zalkaliani, held said at a briefing that the co-chairs of the Geneva Talks constantly receive updated information on the situation in Ditsi.
Deputy State Minister for Reintegration, Ketevan Tsikhelashvili, also confirmed that the government continues to work together with international organizations in order to solve the problem in the conflict region. She said the latest activities in Ditsi can be simply assessed as a continuation of the occupation process. According to Tsikhelashvili, the government will intensify its work with international organizations and will do everything possible to protect the rights and the security of the people residing in along the boundary line and also launch special social programs for them.
However, the Head of the provisional administration of the former South Ossetian Autonomous District, Dimitri Sanakoev, does not believe the efforts of the international community can be effective. He commented on the latest events going on along the occupation line and said that, the fact that Russian occupants continue the installation of wire fences, can be taken as a sign that the international community's efforts are futile and the situation will be further escalated.
Georgian Defense Minister Irakli Alasania is sure that similar activities can continue and happen in the future. Therefore the government has to be as patient as possible and take constructive steps. According to the Defense Minister, the Georgian intelligence services are carefully following the situation in the Tskhinvali region and there are no signs of possible escalation.