Heavy rain affects residents of Senaki
By Salome Modebadze
Wednesday, July 31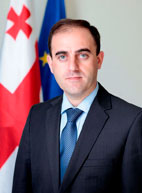 Over 100 families were affected by the heavy rain in Senaki in western Georgia as most of the town was flooded on July 29th.
First floors and basements of dozens of homes were under water, traffic was paralyzed in the town and electricity was cut-off in some parts. The situation was difficult in the villages Akhalsopeli, Nosiri and Teklati surrounding the town.
The level of water reached 80 cm in certain places. Rescue teams were mobilized on the spot.
Gocha Dgebuadze, the acting governor of the Senaki municipality, told Maestro TV that the territory has been cleaned from garbage. Citing one of the local families, he said they are at the edge of destruction. He said if not to consider the population, only the infrastructural damage may reach 1 million GEL.
The damage includes the harvest, poultry and cattle, as well.
According to local residents, there hasn't been a flood like this in the last 40 years. The exact cost of the damage will become known soon. However, according to the preliminary information released by the Minister of Regional Development and Infrastructure, Davit Narmania, the infrastructural damage in Senaki had already reached 800, 000 GEL.
According to Narmania, the situation was really heavy in Senaki, thus immediate evacuation was necessary. Narmania said his deputy is chairing the working group responsible for evacuation.