Debates between presidential challengers causes controversy
By Tatia Megeneishvili
Wednesday, July 31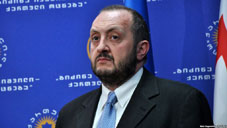 The Presidential candidate of the Georgian Dream coalition, Giorgi Margvelashvili, refused to hold the debates only with the oppositional United National Movement (UNM). He said "the debates will be held in a format in which all candidates will be able to take part and I am underlining one more time that the Georgian Dream will protect the common standard and will not offer any exclusives to anyone."
As a reply to Margvelashvili, the UNM representative, Goka Gabashvili, said the UNM does not insist on any kind of "exclusives," as this is not a show business, but want to hold the political debates, which must correspond to the Georgian political environment.
Gabashvili said the UNM is believed to be the main oppositional force, thus, he said the representative of the coalition should not refuse to debate with the representatives of the "main oppositional force" in a series of debates. Gabashvili said this of course does not mean that other types of debates should not take a place.
This issue has caused controversies among the non-parliamentary opposition. The leader of Democratic Movement-United Georgia, Nino Burjanadze, said the fact that today the UNM "dares to talk" as the second political force in the country is the Georgian Dream's fault. However, Burjanadze expressed her readiness to take part in debates any time.
The leader of Christian-Democratic Movement (CDM), Giorgi Targamadze, said this does not depend on someone's wish, including his, as a presidential candidate's goodwill or the ruling team's candidate's mood, but this is their duty, as politicians, as presidential candidates or the future president, to discuss the issues and problems that are important for the country and people in the open debates.
Former member of the Labor Party, who is now leading the Georgian, Abkhazian and Ossetian European international movement, Nestan Kirtadze, also shared Targamadze's opinion. She said when talking about the presidential election campaign, all political subjects express their voters' opinion. She said she as the "people's candidate" and the leader of the non-partial people's movement, wants "to bring people's opinion, their emotions and their order to the authorities."
The leader of the Labor Party, Shalva Natelashvili, insists that the list of the presidential candidates were changed. "For me the most important opponents are [Prime Minister Bidzina] Ivanishvili and [President Mikheil] Saakashvili, that is why I still invite them to debates," Natelashvili said, stressing he will not hide and say that their "satellites" cause less interest and passion in him.
It was after Davit Bakradze won the UNM primaries, and became the party's presidential candidate, when he called his challenger form the Georgian Dream to take part in debates with him.
However, the format in which the candidates will hold debates on Georgian Public Broadcaster (GPB) is not known yet.