Lavrov calls on Georgia to give up on its geopolitical ambitions
By Ana Robakidze
Tuesday, August 27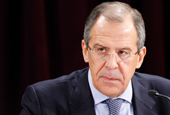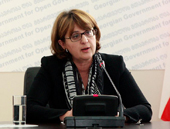 Russia welcomes Georgia's decision to start direct negotiations with Abkhazia and South Ossetia, Russian foreign Minister, Sergei Lavrov stated in his interview with the State TV-Radio Company of Abkhazia.
According to Lavrov establishing good relations in the region is first of all in the interests of Abkhazians, Ossetians and Georgians. He once again he called on the Georgian government to give up on ambitions about seeing Abkhazia and South Ossetia as a part of Georgia, as this is a goal that can never be achieved.
"We have to find a way out of the situation and start to think about people and their interests, rather than about geopolitical ambitions, especially if they are unrealistic," Lavrov said.
Russian Minister accused Western countries in using double standards for determining international status for Abkhazia and South Ossetia. "Western countries are unable to be objective in assessing the situation in Caucasus," Lavrov said. He also added that it is expected that the number of countries recognizing the independence of Abkhazia and South Ossetia will increase in the near future.
In his interview, Lavrov expressed his hopes that the agreement on the non-use of force will be completed soon. The Foreign Minister said it is important that all the sides "unanimously admit the necessity of completing the non-use of force agreement." Speaking of the sides of the agreement, Lavrov pointed out that negotiations must be held between Abkhazia and Georgia, South Ossetia and Georgia and they shall be presented as independent countries.
Georgian Foreign Minister, Maia Panjikidze replied to Lavrov's statements and said that the agreement on the non-use of force is a part of a cease-fire agreement and was accomplished after the August War in 2008. Panjikidze also stated that Georgia has already fulfilled its obligations under the non-use of force agreement and now it is time for Russia to follow the agreement.
The Press Office of the President of Russia reported about Russian President, Vladimir Putin's "business trip" to Abkhazia. According to the Press Office, Putin held a meeting with the de-facto President of Abkhazia, Alexander Anakvab.
The Ministry of Foreign Affairs has already reacted to Putin's visit to Abkhazia. A letter of protest to Russia was immediately issued and sent to Russia via Switzerland. The Ministry condemned the fact in the letter and assessed it as a violation of Georgia's territorial integrity and sovereignty.